Text and photos by Emmanuel Ragandang
Part of my upbringing is to love and protect natural resources. That way of life statement comes from my understanding that my country is one of the world's biodiversity hotspots: it is an area of exceptional concentration of endemic species and experiencing significant loss of habitat. It is a tremendous gift or blessing to behold biodiversity's beauty but demands much responsibility to preserve and conserve. It is an unending call to all Filipino citizen, during in every travel that I went to notable spots in our country, to participate and observe conservation initiatives.
A particular travel that I came to appreciate biodiversity recently was when I joined the trip to Zamboanga City and Bongao, Tawi-Tawi with WBCP members Ruth Francisco and Cathy Mendoza. I initially thought of it as a personal stress-relieving activity, mixed with a little apprehension, especially at unlikely visited places in Southwestern Mindanao affected by rebel insurgencies and bad media outlook. Although I am originally from Zamboanga Sibugay (only 3-hours away by land), I have never been to these places because of the strict advice of my anxious parents But I independently not swayed on their fears, and never disclosed it to them from the start. My excitement came when Cathy's invitation was mainly for bird watching, a new fun and cool perspective I though. It came to fruition when we got affordable Cebu Pacific ticket promos in 2017 for our July 2-4, 2018 trip. It was a long wait, though, but great joy was already creeping on me to witness wildlife.
The journey started when my plane landed safely at Zamboanga International Airport from Cebu City, where I work for a living. Cathy arranged my transfer from the airport to Pasonanca, which was  a 20-minute motorbike ride. She and her companion, Ruth Francisco, had arrived onsite two hours earlier and they have already began birding. About 500 meters above sea level, the Pasonanca Watershed Forest Reserve is one of the few areas in the country that is densely forested. It was declared a protected area by Presidential Proclamation No.199 on December 17, 1987. The protected area, including its buffer zone covering a total land area of about 17,414 hectares, is co-managed by the Department of Environment and Natural Resources (DENR), Zamboanga City local government and the Zamboanga City Water District.
The DENR official, Mr. Joel Baysa, guided us to the famous hotspot. Joel led us the way to the forest for spotting bird species that can only be found in Zamboanga peninsula. He knowledgeably explained to us the existence of endemic birds and the conservation efforts highlighted in the area. Cathy and Ruth had already jotted down the names of birds they saw and heard before I arrived. To my observation, I was amazed with their passion and desire to gain a lifer (a bird species seen for the first time), which I curiously wanted to experience, too. My first birding encounter also got me curious with the words and names they've mentioned, such as 'spark bird' (seen bird that triggered a person's passion for birding), 'ornithologist', 'Wild Bird Club of the Philippines', 'Kennedy's List of Philippine Birds', which were out of my radar vocabulary as an accountant. Their introduction to me to birding sparked my interest to know more about the avifaunal diversity of the country, which has an astounding mix of around 600 species of resident and migratory birds, of which almost 200 species are endemic. Thus, I found myself blessed for I was given already the glimpse as how enjoyable it is to be a newbie birder.
After water break and consuming energy food booster, we resumed back to the forest for another round of possible sightings. They helped me to appreciate discovery of birds by allowing me to borrow their binoculars and camera. I offered a hand to use Cathy's camera and capture many birds as much as I can. They encouraged me to buy one that works great and I thought it as a good investment to fully exploit my appreciation of bird gazing. Also, the other serious thing to consider in the trip is the birding apparel. After noticing Ruth's rashes on her neck due to an unknown insect which had probably landed on her, I realized that it is important to fully protect your body from the heat, rain, itchy insects, and stinging organisms. To prevent discomfort, the classic pieces of clothing I witnessed my companions were wearing are safari hat, pocketed khaki vest, pants that zip away at the knee, long sleeves top, and rubber shoes. Those were the basic kits to be equipped that make birding activity efficient and effective.
My documentation skill using the camera had a learning curve. There was this motion blur control technique for capturing a moving bird that I tried to master. A bit hard, though, to half-press the shutter release until the camera focuses to the subject but worth the fun. From the findings, here are my proudly first 3 lifers identified at Pasonanca Natural Park using Cathy's camera: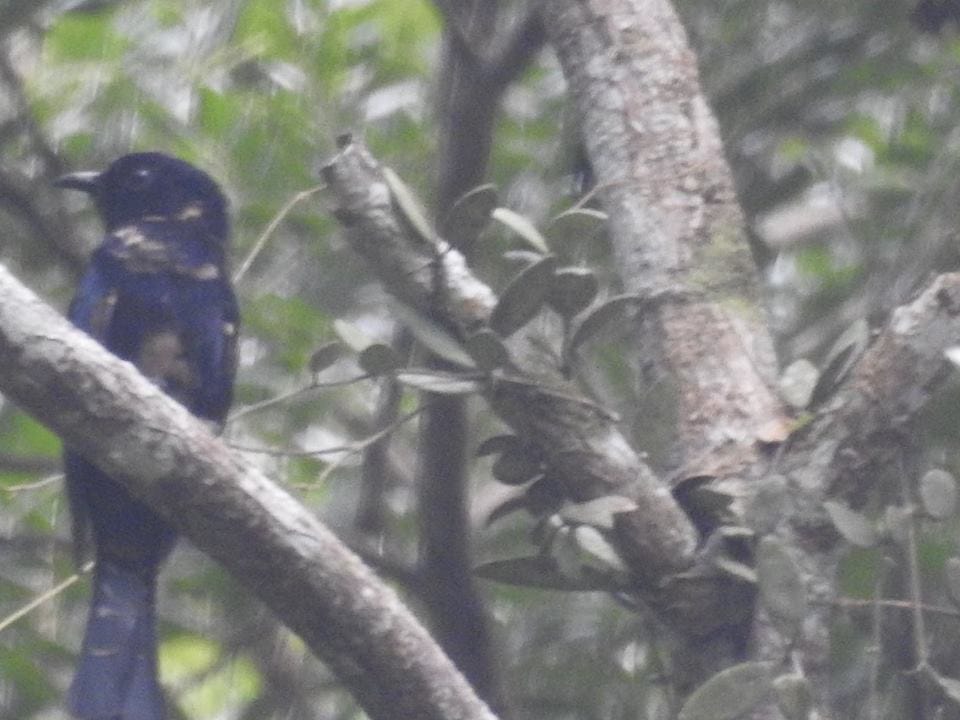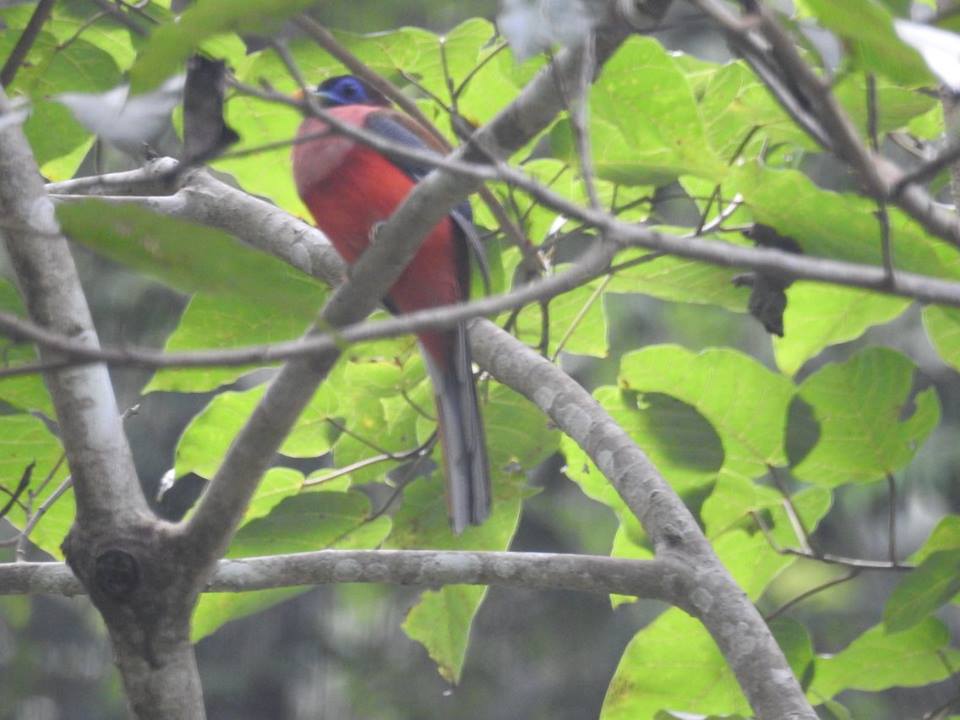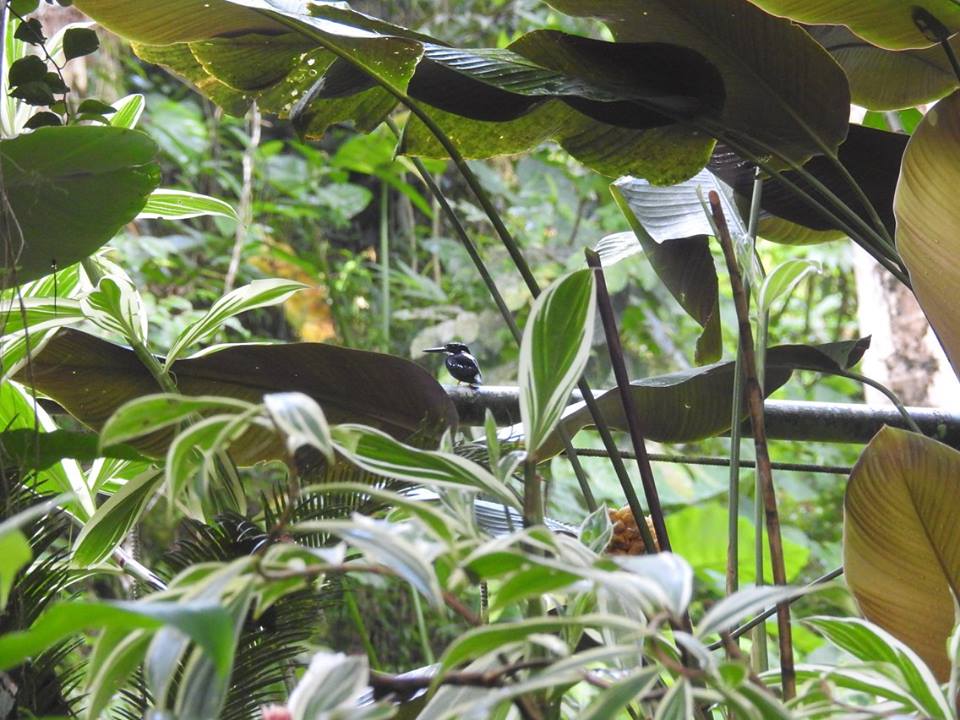 Further, jotted names of notable birds as combined by Cathy and Ruth were: Tabon Scrubfowl, Osprey, White-eared Brown Dove, Black-faced Coucal, Pygmy Swiftlet, House Swift, Rufous-lored Kingfisher, Collared Kingfisher, Coppersmith Barbet, Black-naped Oriole, Hair Crested Drongo, Larged-Billed Crow, Pacific Swallow, Zamboanga Bulbul, White-eared Tailorbird, Brown Tit-Babbler, Coleto, Bicolored Flowerpecker, Red-Keeled Flowerpecker, Pygmy Flowerpecker and Olive-backed Sunbird. The feeling of joy and gratefulness overwhelmed our spirits after seeing the most coveted birds usually eclipsing themselves by the trees. The tiredness to traverse in the heart of the forest was exchanged with fun, relief and satisfaction.
Before 3pm, we packed our things, travelled back to City proper and proceeded to Eco-Aqua Tourism Park inside the campus of Zamboanga State College of Marine Science and Technology for another set of birds to scrutinize. I mean this area is really for public viewing and less challenge to seek the birds. The college was granted its charter and the mandate to develop and implement courses in fisheries, and marine sciences which had finished projects to propagate wildlife population and promote must-visit birding hotspot.
Our visit had made us ecstatic as we saw various Egrets that nest in colonies in mangrove trees surrounding the fish ponds. They are considered migratory and discovered to be breeding in the protected areas. They were active with much sounding calls and flying with their feet extended and necks pulled in. They were stunning to behold with their white plumes and tinge of facial colours. Aside being filled with human PDAs as I jokingly noticed, the park is abundant with type of birds as shown in the photos below:
After securing our accommodation at City Inn- near Ateneo de Zamboanga University, we concluded our first day by having a sumptuous dinner at Paseo del Mar particularly at Alavar Seafood Restaurant. We devoured the famous dish of Zamboanga which is called Curacha: steamed spanner crab mixed with coconut juices. The serving would make us forget our worries, our names, and our dilemmas after tasting it.
The following day was a bit exciting as we will be flying from Zamboanga Airport to Tawi-Tawi, our most awaited place to visit. Our 50-minute flight on a window seat was amazing. I saw islets of Sulu and Tawi-Tawi Provinces scattered across the Sulu Sea. The view was spectacular as to notice unspoilt tiny islands with visible white beach shoreline, giving high potential for tourism and revenue-generating businesses in the near future. I guess the campaign message is true as the Department of Tourism Secretary is influencing the Millenials to "Go South" across the entire Mindanao. It is really now the time to invite young ones, who especially love fast paced, adventurous, and action-packed life, to go outside their comfort zone and boundaries, and try new things.
We smoothly arrived at Sanga-Sanga Airport within Bongao, the capital of Tawi-Tawi. We were welcomed by my new set of friends: Vaughn, Ace and Frank. They are Environmental Science students from Mindanao State University-Tawi-Tawi. They are the ones who escorted us to the birding sites throughout the day. One thing I learned about making a trip successful is to plan ahead and coordinate with somebody, such as these students, which Cathy and Ruth did perfectly. Early researching and referencing through Google have made the trip very easy. So, kudos to my dear friends!
After settling down our things at Sandbar Beach Lepa, we immediately walked to the foot of Bud Bongao, where we registered first at the Tourism Center. The person in-charge performed his duty by controlling the entry of things made of plastics. They wanted to make sure that whatever plastics inventoried prior to the climb will be brought down upon return. Otherwise, any missing plastic during re-inspection has a corresponding 5 peso penalty apiece. I agree to that procedure because it enforces the ordinance against littering, especially in this highly protected mountain. Bud Bongao is Tawi-Tawi's most famous mountain, sprouting 340 meters above the sea. It's a revered pilgrimage site for both Christians and Muslims, as well as the icon of terrestrial biodiversity conservation of the wealth of its wildlife. Another hotspot, indeed!
The challenge started after realizing the steepness of the stairs. But one thing that I'm thankful for is the completed infrastructure project implemented by the top officials of ARMM to make the access easier and safer. The Php 56M project includes an access road, tourist center, concrete 750 steps leading to its zenith, installed railings, and resting sheds. The quality of the construction had made the site more beautiful and convenient.
Little by little, we made it to the first station to rest and wait for the calls. As observed, learning bird songs is the most challenging skill for a birder to develop. There is this listening skill involved to identify an unseen bird. I was amazed how Cathy and Ruth exerted efforts to hear and find elusive birds, until finally spotting them with their naked eye. I was surprised at how attentive they were, especially with any hint of movement on the leaves, and distinguishing the colors of birds camouflaging behind tree branches. I guess this requires much practice and study for several months or maybe years.
Waiting patiently is also a virtue. I got to endure the different aches. The back, shoulder, and knee pains were bearable, but the neck pain was really sore. It was caused by a combination of holding camera up to my eyes, tipping my head backward and contracting the muscles in my upper shoulders while looking up into the treetops. I think these are common aches to birders. I presumed Cathy and Ruth experienced this so often and able to contain themselves and just be silent about it. But at the back of my head, I really need a full stretch and hard massage.
However, gains surpassed pains. I garnered wonderful lifer-shots from this particular hotspot as shown below:
Other species identified and documented in our eBird checklist are Brahminy Kite, Black-naped Fruit Dove, Pygmy Swiftlet, Collared Kingfisher, Dollarbird, Black-naped Oriole, Black-naped Monarch, Rufous Paradise-Flycatcher, Large-billed Crow, Elegant Tit, Yellow vented Bulbul, Yellowish Bulbul, Everett's White eye, Philippine Magpie-Robin, Mangrove Blue Flycatcher, Orange bellied Flowerpecker, White bellied Flowerpecker, and Purple Throated Sunbird.
At last we arrived at the peak after almost 2 hours. It gave us an exhilarating view, overseeing the whole town of Bongao, and the nearby islands surrounded by deep blue sea. It was worth the hike, a rejuvenating experience to behold the greatness of the landscapes. It also added the fun when we discussed various topics along the way, such as which part of the island belongs to Malaysia and Indonesia. I guess the good memories stay there and indelibly imprinted with a photo as shown below: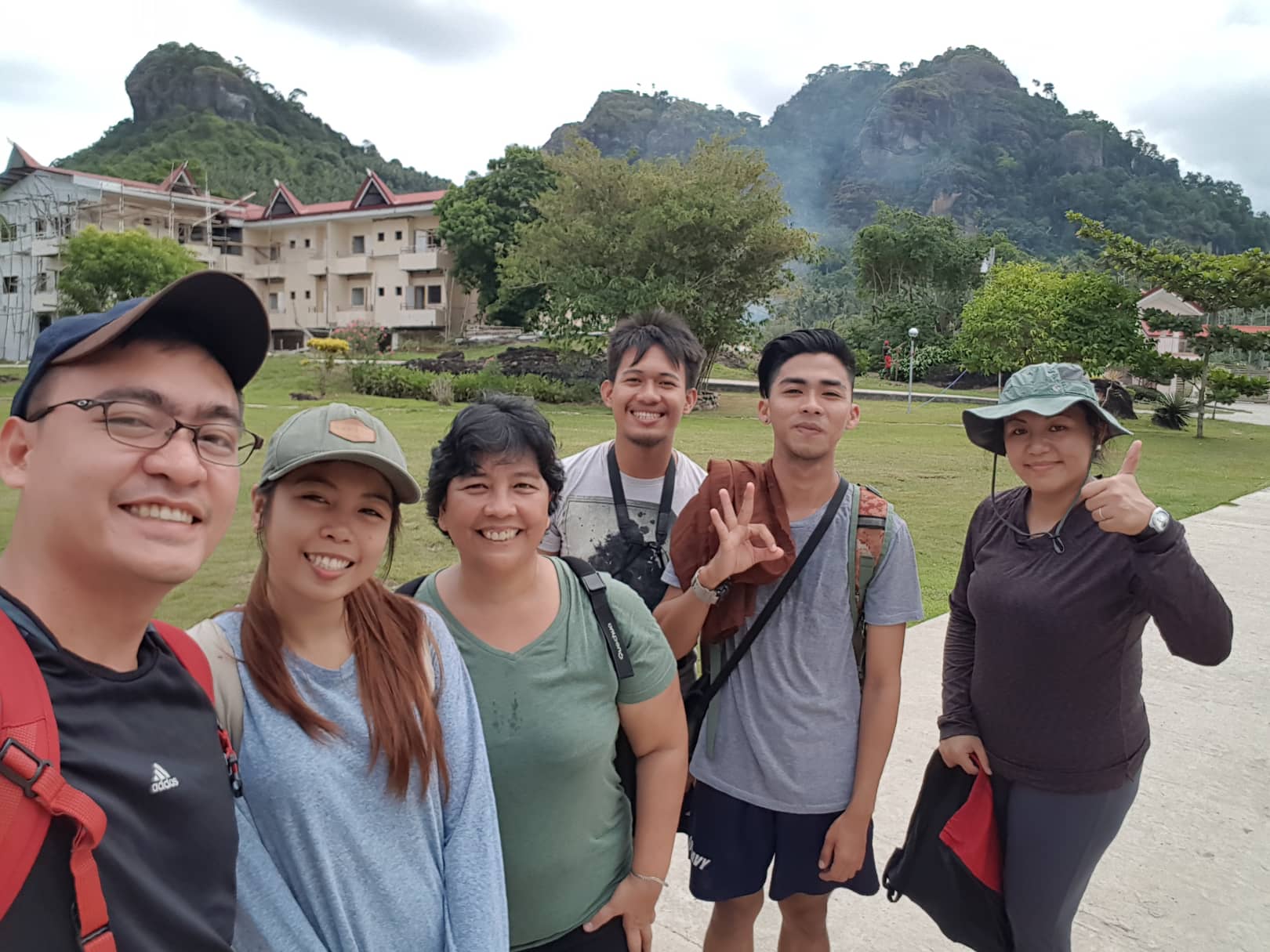 We concluded our first day in Tawi-Tawi with much joy. Descending back at the foot of Bud Bongao at 3pm was an acid test to our knees, but I exchanged it with praises to God who sustained and guided us throughout the day. Imagine, we only consumed biscuits and junk-foods for lunch. He protected and assured us with much confidence while enjoying the magnificence of His creation. Going back to Zamboanga City the following day reminded me that faith in God casts out fears. Surely, there is always a rewarding treat for the brave souls of trusting individuals. We've made it, so would you. Go South! Discover and protect our hotspots!