Text by Gwen So, Gina Mapua, and Robert Montgomery
Photos from Gwen So, Robert Montgomery, MJ Bugante, Gayatri Hasan, Russ Andaya
Supreme Leader Gina Mapua made good on her promise: a part 2 Caylabne Resort overnight birding trip plus a prior stop at Mt. Palay-Palay-Mataas na Gulod Protected Landscape (MPPMNGPL) where she coordinated with the DENR for a joint activity to search for Rufous Hornbills and go herping as well.  Despite the rains that week, plans pushed through and we were all instructed to converge at the DENR station at 8 am on the sunny Friday morning of June 29.  The station was recently rebuilt in preparation for the reopening of the park scheduled for August 2018.  It was closed last October 2016 which effectively eliminated problems such as illegal squatters who had built shacks along the trail selling drinks to hikers, illegal guides, and general trashing of the place. Also, the DENR was unable to monitor the comings and goings of people along the Pico de Loro trail since some hikers went up from Ternate, Cavite and went down in Nasugbu, Batangas or Maragondon, Cavite. By closing the park and talking to the LGUs involved, entrances and exits were secured.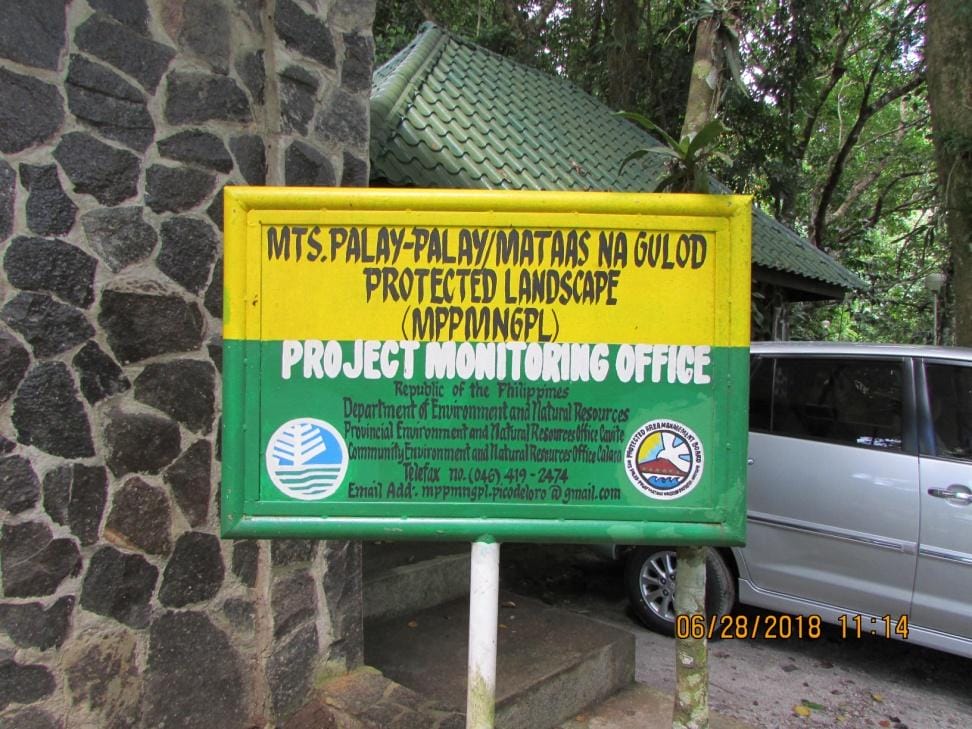 Present that day was Veronica Agir who was supervising several Biology students from a Cavite college, most of whom had spent the night there.  There were also members of the protected area board such as Alex Dones, Managing Director of PROJECT who was trying to get inspiration for the audio-visual for the park, and Dr. Ronaldo Lagat, a herpetologis from DLSU- Dasmarinas.  One other herpetologist was Marvin Sarmiento.
Gina, being the first at the site, did her birding in the parking area and this is her list:  White-Eared Brown Dove, Luzon Hornbill, Philippine Hawk-Cuckoo, Black-naped Oriole, Philippine Bulbul, Coleto, and Red-keeled Flowerpecker.
After a hearty breakfast lovingly prepared by Gina and the DENR personnel, we split into two groups.  Rob Montgomery, Ruth Page, and Chye Foong Yong took the old trail (the Ironman Trail) led by Edilberto "Ka Edil" Perido accompanied by some DENR colleagues.  Ka Edil is the president of the organization of tenured migrants living on MPPMGPL and has a seat on the protected area management board. Here is Rob's narration:
"The trek started at 7:40 am on a cool, then increasingly warm and sultry morning.  We climbed steadily to the old rest station and heard far more birds than we saw.  Edil was particularly adept at identifying bird calls and also imitating quite a number of them.  His "hearing" identifications included the White-Eared Brown Dove, Emerald Dove, Red Bellied Pitta (also seen by Edil), Elegant Tit, Philippine Coucal, Philippine  Bulbul, Coppersmith Barbet, Tarictic Hornbill, and Philippine Magpie-Robin.  The latter was particularly prevalent throughout our walk with its melodious song providing a very pleasant complement to our exertions! Our sightings included the White-browed Shama, Balicassiao, Blue-headed Fantail, Long-tailed Shrike, Rough-crested Malkoha, Oriental Honey Buzzard, Brahminy Kite.  Unfortunately, no Rufous hornbills.
We went beyond the rest station and turned left off the main trail.  We walked down across a stream and passed a cleared area where a helipad had been established!  We looped back to the main trail and found ourselves in the midst of bignay trees and sampled the clusters of ripe berries.  Edil invited us to his mini-farm on the hill slopes close to the trail where we enjoyed a feast of fresh langka, pomegranate, coconut juice, and spring water.  Thus re-energized, we headed back to the field office. "
The newer trail, baptized the "Kiddie Trail" by Gina, was the choice of the three diwatas: Mary June 'MJ' Bugante, Cathy Mendoza, and moi.  We were accompanied by Alex and Rocky.  Alex said it's fairly easy because a path had been laid out but he was worried about pit vipers.  Err, come again?  "It's ok, just watch your step." he said.  "You might not see them and they may be swinging from the branches so…"   My companions were unfazed.  Embarrassed to be a drama queen, I trudged along behind them.  We were immediately greeted by the sight of a brook and the gurgling sound of running water paired with a canopy of lush green all around us and distant bird calls …  I forgot about the reptiles. I looked back and Alex was nowhere in sight.  MJ informed me Alex isn't coming but Rocky is.  Hah?!  Did I mention that Rocky is a DOG???  "He'll frighten the snakes, don't worry,"  MJ said.  As bizarre as this sounds, our canine guide knew what he was doing.  He darted ahead and we'd lose sight of him as we leisurely traversed the rocky terrain.  Then he'd reappear, patiently waiting for us to catch up before leading the way again.  This is just too cute!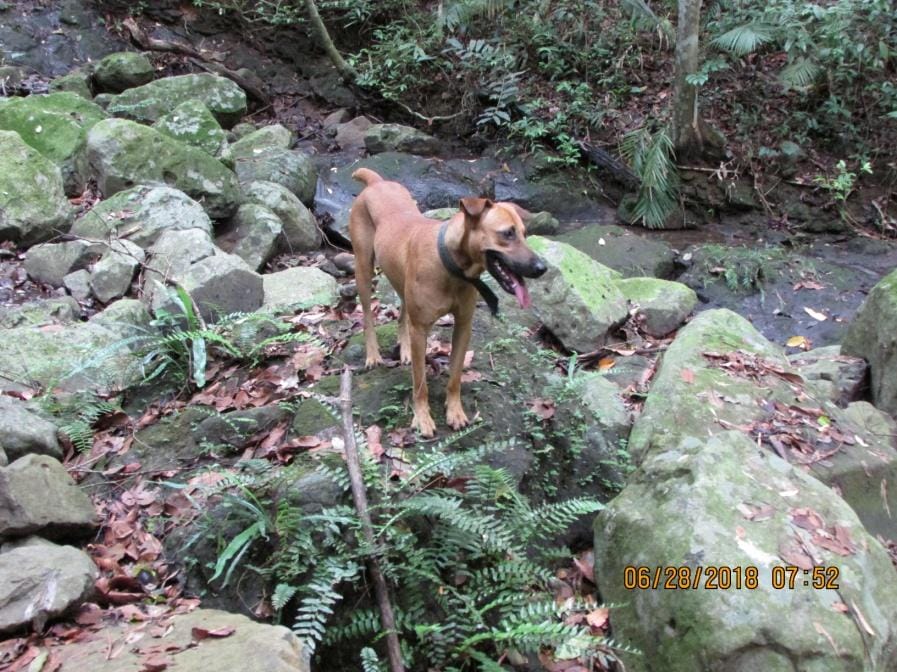 Our list in the New Pico de Loro Trail: Common Emerald Dove, Luzon Flameback, Philippine Coucal, Crested Myna, Rough Crested Malkoha, White-throated Kingfisher, and Philippine Magpie Robin.
As a bonus we also inhaled fresh oxygen, did some forest bathing (Shinrin-Yoku Forest Therapy), and shared stories.  We were told that if we came upon a bridge, that is as far as we should go.  About halfway there, I excitedly trained my bins on some noise and rustling atop the trees.  Ooh, maybe a Tarictic?  Gah, monkeys!  Quite a lot of them, actually.  I broke out in a cold sweat and froze in my tracks.  My companions calmed me down, reminded me of Rocky's presence, and we forged ahead.  A bit later, Rocky got bored of us old ladies not keeping up with him so he disappeared.  When noon rolled around, we decided to make our way down where we ran into Gayatri Hasan who showed us a strange flower and a beautiful feather she found.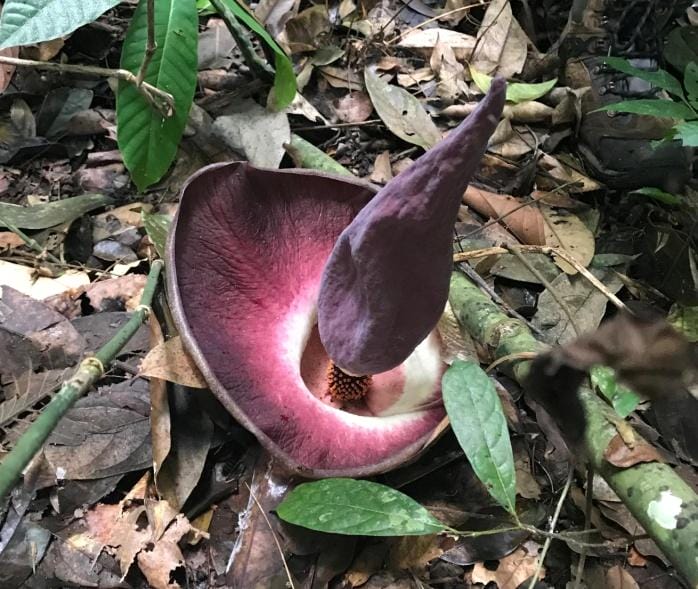 We arrived earlier than the other troop and got first dibs on the yummy lunch care of Gina. While we ate, she regaled us with stories about … well… I don't think I can mention them hehe.  When the Ironman Trail group arrived and had their turn at the lunch table, nobody wanted to go herping anymore so we all headed out to Caylabne Resort. The weather was still cooperating, so after we settled in the house, some chose to nap, some chose to bird, while some went for a dip. (Photos below from Gayatri)
Cathy and I went strolling and in an area where some abandoned dilapidated structures stood, we heard several loud ik ik ik echoing back and forth until we spotted four Luzon Tarictics!  Last time we were in Caylabne, I only caught a glimpse of these birds but this time I saw them in their full glory, yesss!
Our birding list along the road and near the pool area from 3:30 to 5:00 PM included: Crested Honey Buzzard, Brahminy Kite, White-bellied Sea Eagle, Barred Buttonquail, Zebra Dove, Luzon Tarictic, Philippine Pygmy Woodpecker, Black-naped Monarch, Stripe-headed Rhabdornis, Philippine Bulbul, Striated Swallow,  Philippine Magpie-Robin, and Red-keeled Flowerpecker.
Around dusk, we explored the grounds near a members-only bar undergoing repair.  We met some fishermen who showed us their catch, spotted some crabs and flying fish, examined sea urchins thrown on the ground, and watched as the world faded into the night.
For dinner, once again Gina outdid herself bringing her entire kitchen to our unit (very comfortable and clean).  Afterwards, some of us went night birding —  owling to be specific — but found zilch.  It was a very quiet night.  We flushed a big bird from a tree but were unable to identify it.  Still, we were happy because the experience of going out with our flashlights searching for nocturnal birds was fun in itself.  We did see pretty fireflies though.
We occupied two big bedrooms, 5 in one room and 3 in the other.  I'm not spilling the beans on who snored the loudest but our ever-ready camp mama distributed disposable earplugs.  After a good night's sleep, some of us were out by 5:30 am the next day before gathering for pre-breakfast… and then breakfast proper at the clubhouse!  That day there were dark clouds and petrichor (that pleasant after-rain smell) emanating from the ground, but the show must go on!
What I love about this place is there is no huffing and puffing involved.  You just stand in one spot and birds appear.   Rain started coming down intermittently but only gentle showers so we would wait inside the vehicles until it let up and ventured out once more.  Russ Andaya and Ruben Bala graced us with their presence this morning.  I was very prepared with my umbrella and rain boots but the best was Ruben who let his car do the walking. Haha!
By 7 am, we were at the triangular area near the bridge of the main road and we spread out along the road toward the gate.  We compiled a list of almost 50 species but I shall mention some highlights.  A group of three Luzon Tarictics flew into a leafless three perched in full view long enough for all to see but they were against the light so we couldn't determine if they were males or females.  There was also a group of three Philippine Falconets preening on a distant tree branch.  As usual, the gorgeous Whiskered Treeswifts made their appearance.  It was frustrating to hear so many Philippine Coucals but I just couldn't locate them.  Catching a glimpse of a tail feather or wing doesn't count!  On this day, I saw two species I prayed I'd encounter:  the Philippine Falconet and any of the two Malkohas.
We were famished by the time noon came around.  Good food and great company was a good way to end the day but first we needed to consolidate our lists.  I learned so much during the trip, it was all a dizzying array of information in my head.  I've barely digested the names and they keep changing, sheesh.  No more White, just  Collared Kingfisher.  The kingfisher with a brown breast is White-throated.  We spotted a lone egret and I was like, oh, it's JUST a Little Egret.  Turns out it was an Eastern Reef Egret, and as I was committing the nomenclature to memory,  Gina says it's more aptly called a Pacific Reef Heron in its white phase.  I just bought my own copy of the Kennedy Guide and she says that a lot of information there needs to be updated. Oh my gosh, I have a life outside of birding, how am I ever going to catch up?!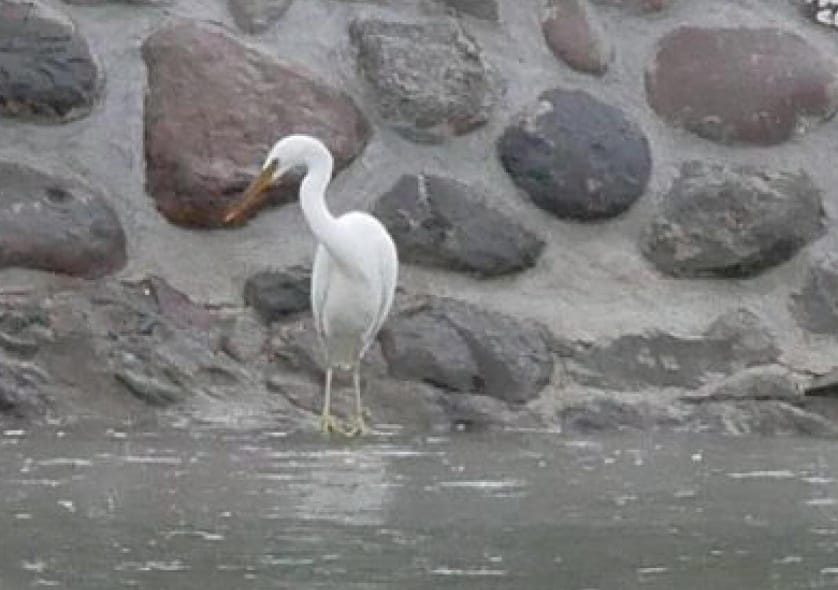 I shall end with this picture… what do you notice?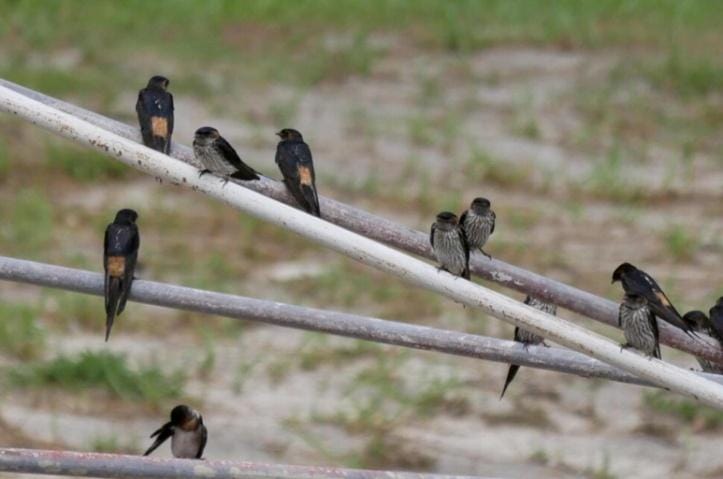 I was flummoxed as we were all looking at the 20+ Striated Swallows when somebody (I think it was Ruben) noticed that one of the birds was not like the others (Sesame Street music in the background).   In their midst was a Pacific Swallow.  I am deeply impressed, bow.  Thank you Gina for this fabulous trip, the reunion with those who were in the first Caylabne outing, and the new friends!