Text by Gwen So
Photos from Gwen So, Anna Melendez and Tinggay Cinco
---
A few months ago, I joined a medical mission at the Colegio de San Lorenzo School in Macabebe, Pampanga. I was told Macabebe is birdy, and that I should ask to be taken to the fishponds. However, I didn't want to be a bother to the organizers, so scratch that idea. When I got there, I wanted to cry! Within the school grounds, just behind the classrooms, was a long body of water with lush vegetation. I just stood there and several birds came flying in, and I didn't have my birding paraphernalia! I only saw four bird species in Masungi while performing death-defying stunts, and pined for the easy peasy birding in Caylabne Resort and Macabebe. Thus, when Gina's email popped up, I whispered a "thank you" to the heavens and pounded the keyboard to make sure I got myself a slot for the Pampanga River West Bank trip!
My dream-come-true began at 4:30am on September 9, in McDonald's Eton Centris… except I was in McDonald's EDSA corner Panay Avenue. Hey, I took a Grab and that's where I was dropped off. Not to worry. All I had to do was cross a footbridge and my companions would pick me up on the other side. It was still dark out, the bridge was long, and there was hardly anybody except a guy coming down the stairs. I asked myself is being mugged worth it?—YES!
I finally got in the car with Anna, Ace, Art, Ruth and Riza. I felt I owed people an apology and explanation so I told stories about my geographically-challenged brain, how I thought Tomas Morato and Timog were just the same, so I ended up in the wrong Via Mare for a party. For the Masungi escapade, I had asked Jon V to pick me up but he said it's harder to book Grab that way so he Vibered me a screenshot of the meeting place.  Ruth proposed to include screenshots of maps when organizing bird trips. Glad I could help! My faux pas was an icebreaker, and all the way to Pampanga it was nonstop chatting and laughter as everyone shared his/her birding adventures. We listened eagerly as the Melicors narrated how they rescued a trapped Philippine Duck who seemed to have lost the will to live.
In Macabebe, we were greeted by the sight of several structures partially immersed in murky water, and the roads leading to our destinations including the above-mentioned school were impassable. We figured we'd just follow the lead car with Tinggay, MJ, Mads, and Babie. At some point, we lost sight of their vehicle but thought we're on track as the road was just a straight line. We noticed several dogs lazing in the middle of the street, and when our car came barrelling down, they nonchalantly picked themselves up to move to the side. "They're so secure," observed Art.  The road had also turned weird because now there were unmarked humps placed close to each other. As Art slowed down, we saw more submerged houses on our right and a fancy one even had a for sale sign. On the left side was the river with the water almost level with the street. Had it rained even just a little… yikes! We had also gone off road and the trail got narrower.
I called MJ and Babie but their phones only rang. I was worried but the general consensus was, "There's no other way so they're probably just ahead of us because Tinggay's driver is fast." We plodded on and then my Globe and PLDT had no more signal. I told myself not to panic since I'm with experts. Anna and Ace just joined the club and I wondered why they weren't acting like me (gushing and starstruck). Turns out once they got hooked, they birded almost every week. Still, my gut insisted something's awry so when two bars popped up I immediately called MJ whose spine-chilling words were "Whaaat off-road? There's none! Didn't you turn left at the gas station towards Consuelo beach?" Ok, another one for the rule book, hehe. Stop and wait for the rest of the convoy at every turn. Riza recalled seeing an Eco-Gas station a bit far off but at least we knew it was there.
On our way back, Art braked when Riza spotted a bird on the side of the road—a Common Sandpiper! Since I was the only one with a camera ready, I shoved my camera to Riza but she didn't know how to use it, so I grabbed it back and jumped out. I stalked the little creature. I tiptoed, paused, looked back, and made signals to the others like they do in the movies during a raid, but Sandy was so skittish, and kept darting away until she crossed to the other side and disappeared. I clicked on the shutter too late! Meanwhile, my car-mates found my Ninja stealth mode hilarious.
Next, a snake decided it too wanted to see if the grass was greener on the other side and slithered onto our path. It was too late to brake so Art swerved. There were several cars behind us so we had to keep moving. Art was distraught but heaved a sigh of relief when Riza said he didn't run over what he thought was a cobra. We got lost but we were happy because of the unexpected turn of events! We finally caught up with the others who were roadside birding as they waited for us.
Tinggay launched into a lecture on how to count. Delimit your field of vision, determine boundaries, then count by fives or tens. I kind of get it, but I still need to practice. My lifers there were the cute Little Grebes and the Golden-headed Cisticola.
After we've had our fill of this spot, we proceeded to what Tinggay referred to as the "beach house" which was the Barangay Hall of Consuelo, Macabebe. It was high tide but there were still a handful of migrant waterbirds.
Many thanks to Haribon Foundation through Mr. David Quimpo for giving us 10 copies of the "Waterbirds of Asean" book via Mads. The book was super helpful, although I must say lazy me let the others pore over the pages while I waited for them to verbalize the information hehe.
What next? Supreme leaders for the day, Tinggay and Ruth, decided we'll take our chances and head to Calumpit, Bulacan.  This time, we got to be the lead car.  Throughout the trip, we clucked in disapproval over vehicles parked on the sides of the road. En route to Calumpit, we witnessed an accident. An elderly man on his tricycle miscalculated and hit a passing van which sideswiped him causing his trike to ram into a parked car who happened to be the one blocking our way. Big dent, tsk tsk. When we got to Iba este, traffic came to a standstill. Art wanted to overtake but the other side was blocked too.
A few minutes later, we came upon a funeral procession that had just started, and the cemetery is quite far gaaah! So should we turn back? But the thing is, a few minutes ago, Ruth sighted water to our right, so I said if we find a break on the road where we can park, we'll go down. No sooner had the words come out of my mouth than Art shouted "Look!" HALLELUJAH! It was a parking lot for trucks and the caretakers readily gave us permission to park and enter. Lo and behold behind it was a privately owned rice field (it's for sale) and we feasted (visually, of course) on stilts, stints, sandpipers, pigeons, and plovers – wheee!
I learned the difference between Common Sandpipers and Wood Sandpipers, got to see the pretty markings of the Little-ringed Plover, and got confused why the Red-necked Stint didn't live up to its name (because it is non-breeding plumage).
We birded to our heart's content and had our lunch here as we basked in the afterglow of our serendipitous moment. Guess what Art Melicor is doing: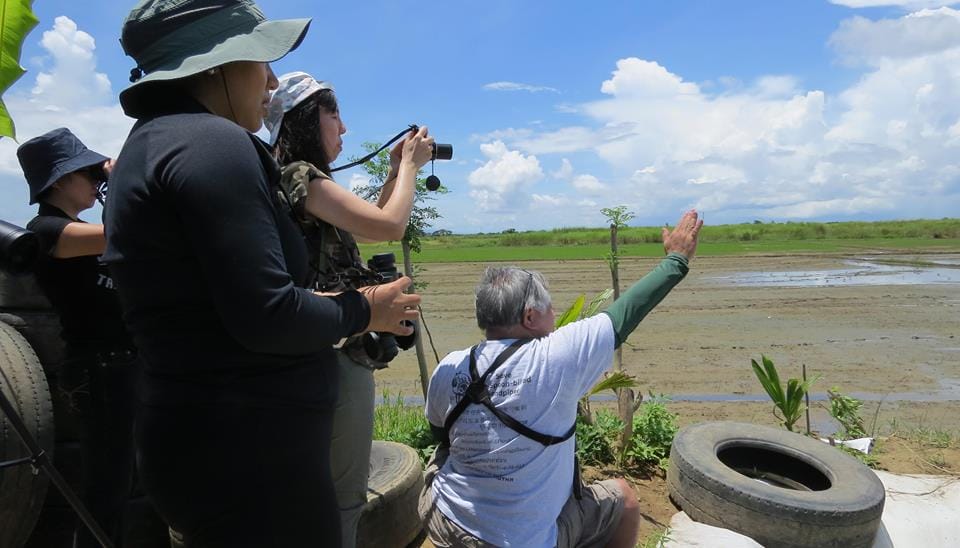 Is he praying over the rice fields?
Is he summoning THE FORCE to draw more birds to us?
Is he volunteering to count the Black-winged Stilts?
Thunder growled in the distance. Half the sky darkened with angry clouds and we knew it was time to go. Earlier in the trip, I had announced I needed waterproof trek shoes so Art suggested we check out the outlet mall in NLEX on our way home. I felt a bit embarrassed it might inconvenience the others but Art said he already mentioned it to them and they wanted to go as well yay! Well, we got lost in our chatter and missed the exit. I was ready with words of comfort for Art because I was anticipating an apology directed at me when he suddenly said, "Sorreeee. Riza, call Mads baka mag expect yun."  Hahaha!  We had our wrap-up session at McDonald's Eton.  Lifers, new places and faces, … I love this hobby!