by Juan Mesquida
---
On September 19th, I sheepishly asked Tinggay, whom I thought was on top of the trip, "Hi Tinggay, are there any slots left for September 29 in Masantol trip?" You know the feeling of the now frequent "The group is closed," which I had not heard about Masantol and made me harbor some hope. Not long later, Ruth answered, "Hi Juan, I think it is possible, 😊 but let me get back to you next week." I felt a great sigh of relief. I was looking forward to doing my first shorebirds trip as they had started to return to winter in warmer latitudes. I still had fresh the great experience of birding in LPPCHEA last May and seeing some of them starting to acquire their breeding plumage. I was hoping I would still see some birds with some breeding feathers on their way back. Ruth confirmed there was space and I got excited to brush up on what I knew (not much) and learn more about waterbirds in six plates of the Kennedy field guide. My target this migratory season were the plovers, sandplovers, shanks, stints, etc. Not an easy task.
Ruth coordinated effectively. I was going to pick up Brian Ellis and meet up in McDonald's Eton Centris at EDSA with Ruth Francisco, Mads Bajarias, Kathy Mendoza, and Des Cambaliza. We were ready by 4:15am and proceeded to meet Linda Gocon at the Shell gas station in NLEX just before the Pulilan exit. With her were Ruth Page, Jackie Hughes, and Kelly Hageman. Unusual traffic caused Linda's party to arrive a bit late, giving us more time to take breakfast at Shell. Ruth transferred to Linda's car. Linda would lead the way due to her familiarity with the site. I am not sure if due to the delay or is just the normal thing, but I had a hard time catching up with Linda. From the Pulilan exit, we proceeded to Calumpit and turned left toward the Pampanga River. Brian shared with me his usual good conversation while the rest rested their eyes for the upcoming birdwatching experience. After a few kilometers, Linda stopped near the early part of the river and four "American" women armed with binoculars jumped to the road with eyes glued to the river.  I think there were more eyes on them thaneyes on the birds. I asked for the rare bird they were looking at and I heard it was "a Pied Bushchat." Linda was showing this 'rare' species to the new comers.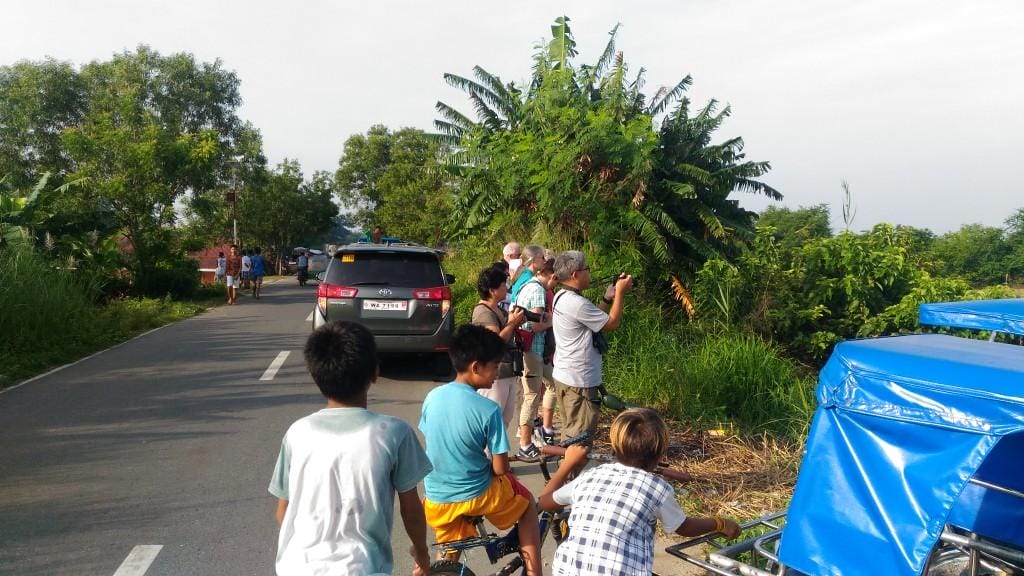 After two of these stops, where we saw birds of the likes of the Blue-throated Bee-eater, Barred Rail, White-breasted Waterhen, etc., I suggested to Linda we proceed further to find the shorebirds (secretly my personal goal). Our first viewing of shorebirds got me excited. We leaped to the road, set up the four scopes we had brought, and enjoyed the perfect sunny sight. In an extensive mudflat area still in very shallow water, we saw two large flocks of interspersed Common Redshanks and Whiskered Terns eagerly feeding. I counted by tens: 110 Redshanks and 200 Terns. It was a great start.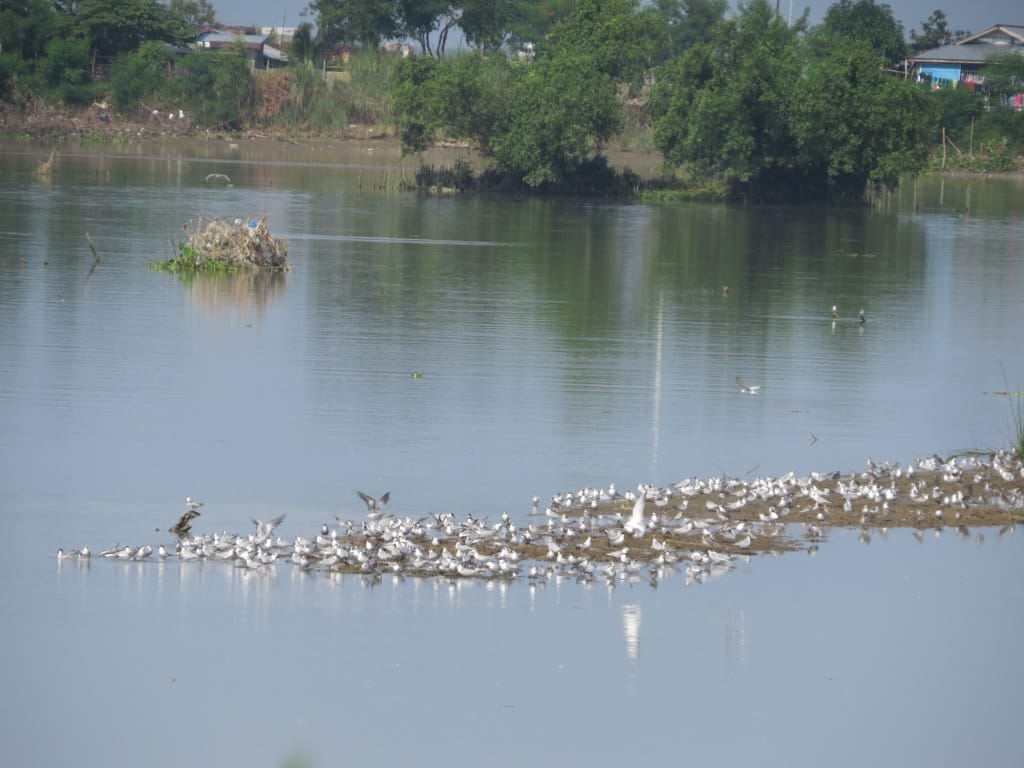 A few kilometers later Linda stopped again. This time the birds were in shallow islets. We got more variety this time. Initially 12 Black-winged Stilts, mostly adults and few juveniles, a few Whiskered Terns, and a motley of Common Redshanks, Common Greenshanks, and Lesser Sandplovers. Mads's identification expertise came in very handy. As we were counting, a large flock of Stilts landed and left soon after. Then a large crowd of Whiskered Terns landed and stayed. My dreams were happening.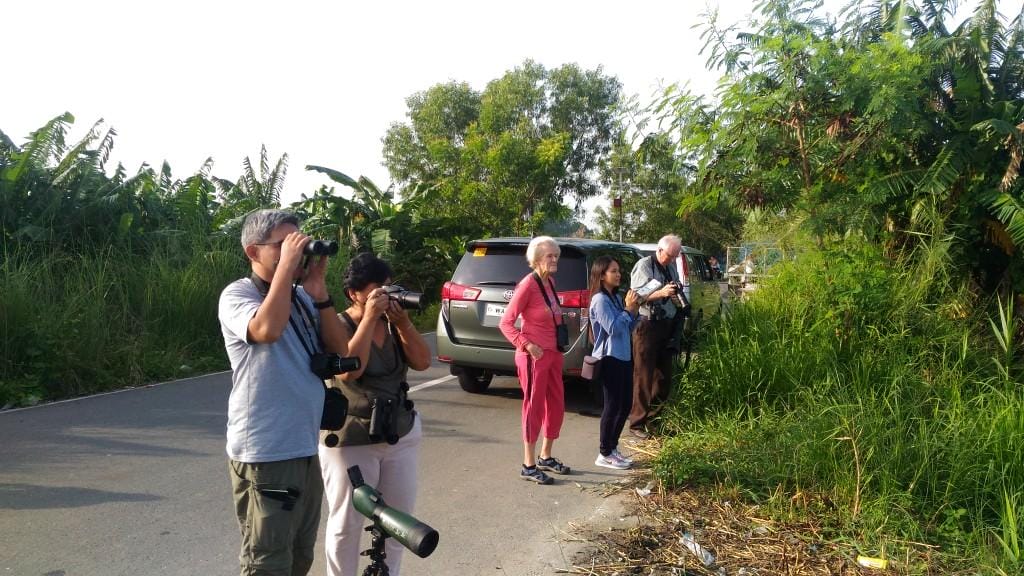 Our last stop by the river in a large mudflats area capped the shorebirds experience. More than a hundred Pacific Golden Plovers, a good number of them still with some of their handsome breeding plumage. Among them, around 30 Lesser Sandplovers and just a few with rufous breeding plumage. I think I got more than I wished. It was a good beginning birding into the migratory season. And I am looking forward to more shorebird trips.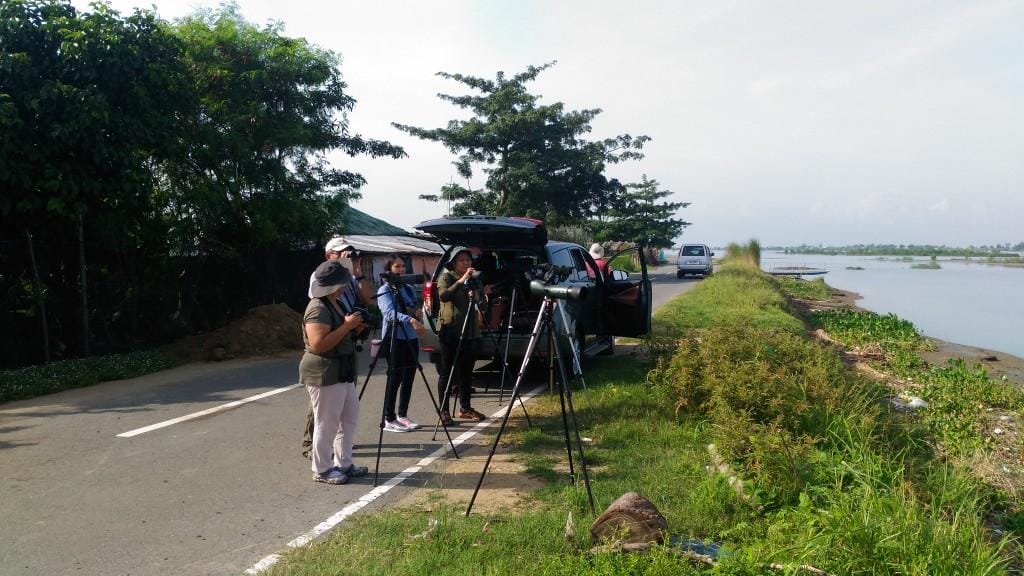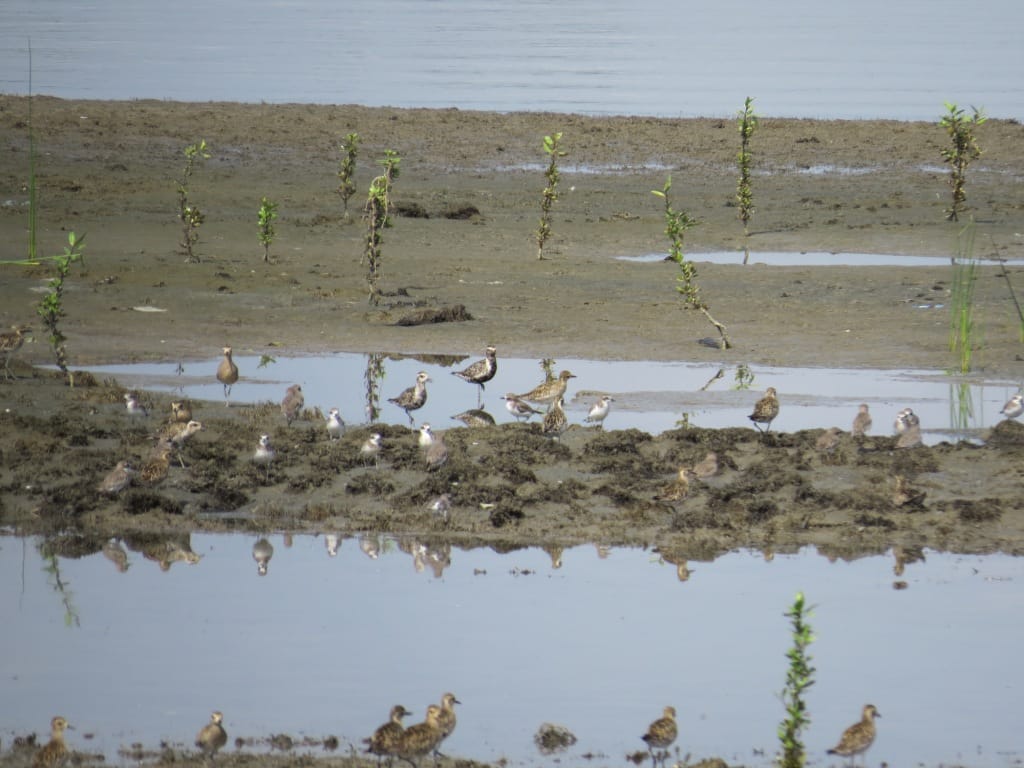 We decided to return by 9:30 am. Traffic in the NLEX and especially in EDSA was on the heavy side, so we had time to talk and got to know more about Kathy and Des. We had agreed to meet with those in Linda's car in a café in the Alumni Center of the University of the Philippines. Our plan was to make the final list(s), since now it is easy to share lists and edit them personally in eBird, while having an early lunch. Making lists is always an exciting experience, since there are twenty eyes see more than two. We had chosen that location because after lunch we were hoping to catch a glimpse of the much announced Chestnut-winged Cuckoo that had been repeatedly seen in campus.
We were unlucky but still joined everyone's company and spotted a few other birds while looking for the cuckoo. We ended the trip with some group pictures. It had been a full day. I had made new friends and learned a lot about shorebirds. I cannot wait to join the next trip.