By Michele T. Logarta
While field guides are essential to birding, there are many other tomes of interest to the bird watching bookworm. This section will feature those "other" books, fiction and nonfiction, about birds, birders, nature, and the environment. Books can be old and new, from a personal collection, or borrowed from the library or from friends, or encountered and browsed at a bookstore or anywhere for that matter. This is not intended to be a book review, but rather a space for the birder to tell others about a book he thinks is noteworthy, life-changing or simply, just a good read.

This being the first Birder's Book Shelf feature and a deadline looming, I will start the ball rolling.

For future editions of eBon, birders will be invited to share a book with our readers.

–Michele T. Logarta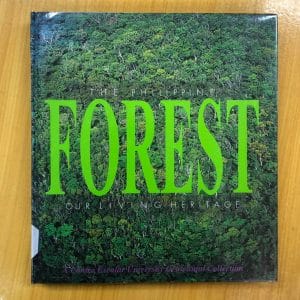 The Philippine Forest: Our Living Heritage
Published by Centro Escolar University as part of its Centennial Collection
2001
Concept & Design: Maggie Revilla-Simpliciano
Writer: Karla P. Delgado
Photography: Neal Oshima
This book is a coffee table book.

But, according to forest ecologist and environmental activist, Dr. Delfin J. Ganapin, who wrote the book's preface, it is not meant to be enjoyed.

He wrote: "This book then is not for us to spend a comfortable time around the coffee table. This book is about standing up and going out and fighting for the forest—knowing that our life and our society depend on it."

The book drew me in with its beautiful photographs, heartfelt prose, and its compilation of myths and poetry about nature and the forests in different Philippine dialects. But beyond being gorgeous to look at, the book is filled with useful information about the forests, the unique flora and fauna, and natural wonders within them.

The book reads like a personal journal and walks readers through the forests of Palanan, Mt. Tapulao, Siargao Island, Mt. Makiling National Park, Mt. Kitanglad Range National Park, Mt. Pulag National Park, Subic Watershed Forest Reserve, Sohoton Natural Bridge and National Park, Mt. Banahaw, Agusan Canyon, Balinsasayao Twin Lakes, Palawan, Bongsanglay, Mt. Apo Natural Park, Loboc Reforested Watershed Reserve, Bislig , Chocolate Hills, and Balbalasang-Balbalan National Park.

Of Palanan, it was written: it is a place where one feels the frailty of human existence. When you enter a forest, you are greeted by the sweet aroma of damp earth and decomposing leaves.

Of Mt. Kitanglad, we are regaled with the story of how, after a three hour ascent, the writer watched a Philippine Eagle from a vantage point across a gorge. How wondrous it must have been to see the bird cock its head every time it heard the voyeurs speak louder than a whisper.

Of Agusan Canyon, we marvel at the vision drawn by the one, upon arriving before sunset, who said it must have been what C.S. Lewis's magical Narnia looked like.

The Forest Profiles provides basic facts and figures on national parks and protected areas throughout the Philippines.

A section Spirits of the Forest is dedicated to folklore and supernatural beings of the forests and another is devoted to Forest Poems. Verses of the poems in this section often frame the photographs throughout the book.

Here is an excerpt from the Sa Imong Pagsuroy sa Lasang (As You Wander into the Forest), by Anthony Icon, originally written in Cebuano:

Hunong,
Una ka mosulod sa lasang
Huboa ang imong sandalyas
Ang mga lumot na ang mosapnay
sa imong mga tiil.
Paghinay sa imong mga tunob
Maipit unya ang mga duwende
Nga nahinanok ilawom sa kabatuan
Ayaw paga-uyoga ang mga sanga sa kahoy
Kay mangatagak ang mga gangis nga nangaghawa
Inig-abot nimo sa busay, panabi-tabi
Kay basi ogmagkaguliyang ang mga engkantada
Madanihon'g nanghamli.
Ayaw pag-ubog sa tubig
Ang mga alimokon dili namodimdim
Sa katam-is nagbugwak nga tubod…

…Paghilom….
Stop,
Before you enter the forest
Remove your sandals
Let the mosses caress your feet.
Be gentle in your steps
You might press on the dwarfs
That slumber under the stones.
Don't shake the branches of the tree
For the cicadas at play might drop.
When you reach the waterfall,
Call out for permission
Lest you cause confusion among encantadas
Who are lovely in their bath.
The wild pigeons might no long sip
The sweetness spouting from the spring…
…Be quiet…
Perhaps an outlier where I found it, the book sits on the shelf of a library specializing in arts and culture. Published more than 20 years ago, it is an old book and the statistics cited are outdated. But, its message remains true and even more urgent today.