do you remember your first ever club trip with the WBCP? New member marites falcon writes about her first club trip to the tanay rainforest camp.


space



CLUB TRIP TO EPIC PARK TANAY RAINFOREST CAMP                                            By Marites M. Falcon
I recently joined the Wild Bird Club of the Philippines (WBCP) and discovered a leisurely, fulfilling and relaxing hobby.  Birding is fun and exciting!  Bird watching offers us the challenge of identifying birds and observing them in their natural habitat. And it takes us to great new and wonderful places. It is with pleasure that I share with you my birding experience at the Epic Park Rainforest Camp in Tanay, Rizal.
Rainy Independence Day Birding
I arrived at our meeting place at exactly 5:00 a.m. That was our call time at the Jollibee Petron in La Vista, Q.C. We were fourteen birders from WBCP, including WBCP Pres. Anna Gonzales. We set forth for the Tanay Rainforest Camp in a convoy.  As we were nearing the camp, there was a heavy downpour. The weather forecast for the day was rainy and drizzly, so we all came prepared with rain gear  – umbrellas, ponchos and slippers – as advised by Jops Josef beforehand.
We arrived at  Bgy. Sitio Bayucan, Sampaloc, Tanay, Rizal at 7:30 am amidst the drizzle and early morning mist. We were surrounded by lush foliage, tall trees, flowers and plants, and some butterflies. We were in a relaxing place, like a paradise that offers everyone a refreshing vista.  The Epic Park is a home to 57 bird species. We were met by the park's guide who gave a brief orientation of the place. The guide later showed us their squeaky clean mess hall and the lodging facilities.
Morning Chorus

We headed out to the lush greens down the trail packed with all our birding gear: cameras, scopes, field guides, and tripods. We were greeted by a symphony of bird calls that could be heard over a great distance. It was fascinating to hear the sound of birds chirping and twittering in the fresh morning air.  One of the birders said that those were the calls of the Philippine Coucals and Philippine Bulbuls.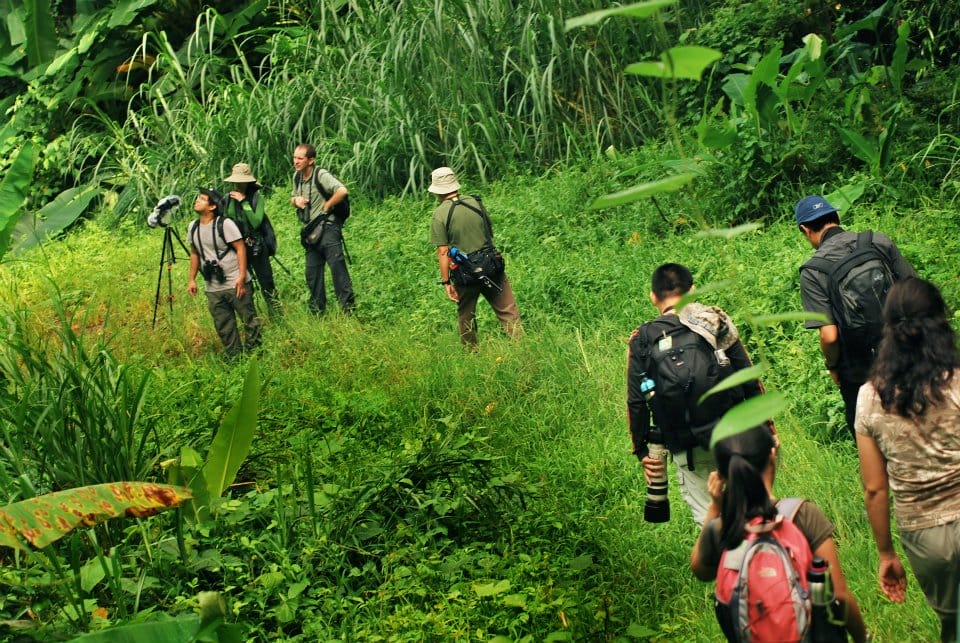 Ups and Downs

The mist started to clear up as we reached the top of the slope. The group suddenly spotted two pairs of absolute stunners! Lifers for me! The first ones were the Oriental Honey Buzzards.  Second were the Crested Serpent Eagles.  Amazing! I always wanted to shoot birds in flight. Two of each kind majestically soared high above us! I wondered how the other birders could tell at a glance which ones were the Honey Buzzards and which were the Crested Serpent Eagles. They looked just the same to me!   These two bird species were simply captivating with their display of roller-coasting in flight and fluttering wings at the peak of the ascent.
We continued a little further down the trail to a slope in a small clearing when we heard sounds coming from two bird species:  a Coppersmith Barbet and a Red Bellied Pitta. I was pretty excited hoping to see the birds appear before us from the heavily wooded bamboo trees. But, they didn't come out as expected.
Interesting Finds
One fun moment I remember during the trek was the quick lecture we had from one of the birders – Geology 101 (thanks Allan Fernando!) Fragments of volcanic rocks and fossilized corals were found along the trail and each of those finds has a story to tell.  We finally reached the end of the trail. I took some photos of the lush greens. There was one uniquely-shaped tree trunk that caught my attention. Another awesome find!  Just as we were heading back, a sudden downpour of rain left us standing still but glad that we managed to stay half-dry with our rain ponchos and umbrellas ready on hand.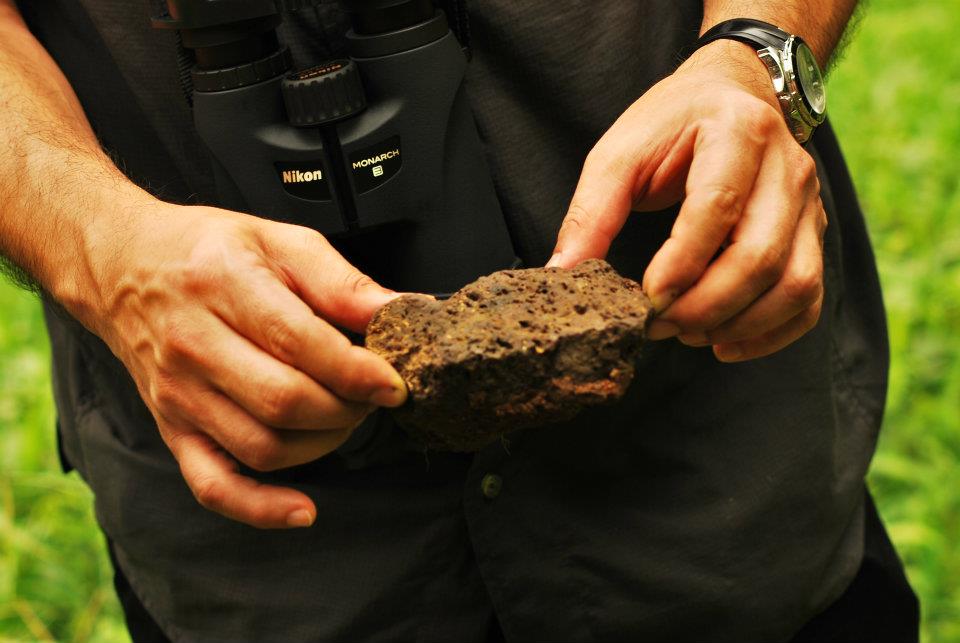 Picnic
The group reached the mess hall just as the rain stopped. We were quite soaked and a bit muddy but it didn't take us too long to clean up and grab a quick but hearty and enjoyable lunch with the rest of the group.  Each person brought food to share.  That made it great fun to be with such a generous bunch, just enjoying each others company during the break.
A Bird's Nest
After lunch we  grabbed our gear and continued up the trail towards a hanging bridge.  The highlight of the afternoon was seeing the nest of an Ashy Ground Thrush! Quietly and patiently with my tripod and camera all set up at my chosen vantage point, I waited and waited for my very first sighting of this uncommon bird. Then the parent Ashy Ground Thrush flew onto its nest. What a fantastic sight! It gave me some kind of uncontrollable spasms of excitement seeing this.  The tree where the nest is located is on a slightly sloping terrain, approximately six feet above the ground. The nest is made up of dried twigs and leaves suspended from five thin branches.
It was indeed a beautiful sight. Being able to photograph a bird on its nest gave me a thrill. But I was instantly reminded of what I learned from WBCP during my very first guided trip at the La Mesa Eco Park in March. Stay as far away as possible from a nest to keep disturbance to a minimum. It was explained that we should always avoid disturbing our subject. Disturbance may lead the parents to abandon their nest site with their newborn chicks.  It's all a matter of respect. I was just so glad to have my 70-300mm lens with me, it may not be the best in this kind of photography but good enough. As an aspiring avian photographer, being able capture the beauty of the avian form in its natural behavior without disturbing the subject matter is indeed a big challenge.
Variety of habitats
The group continued the birding journey following the trail beyond the hanging bridge. A few of us just stayed within the area where the Ashy Ground Thrush was located and immersed ourselves with the diverse flora of the rainforest. We saw this unique vine called Freycinetia with corn-like stalks on its end (thanks Anthony Arbias for identifying!), several species of ferns, trees with fruit clusters of red berries, a durian tree with fruits forming along the branches, kaong palms (thanks Gina Mapua for letting me know) and other interesting plant species.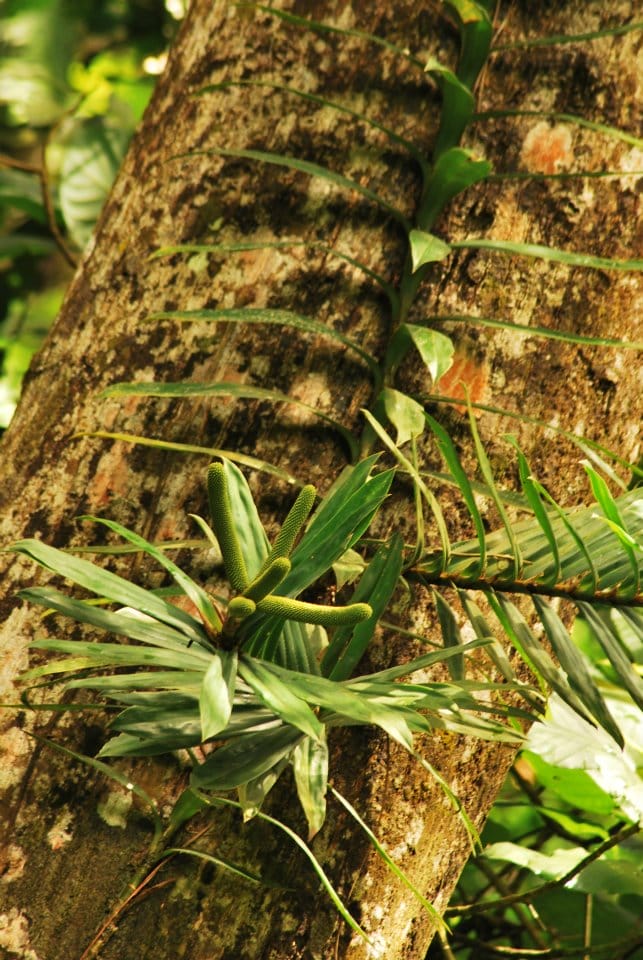 Other bird species that grabbed our attention were, Red Crested Malkohas, Yellow-Breasted Fruit Dove, Guaiaberos, and Pygmy Flowerpeckers.  Also spotted by other bird watchers were the two White Browed Shamas. I once mistook a Pied Fantail in my backyard for a White-browed Shama! There were also four Black-Naped Monarchs, six Balicassiaos, White throated Kingfishers and Glossy Swiftlets.
Making the Bird list
At the end of the day, we all gathered at the mess hall to share bird sightings and recap all of the species we encountered that day. As a newbie birder, I was given the privilege of writing the bird list for the first time and submitting a Trip Report (TR) for the club's records. As I finished my bird list, I saw a frozen "mummified" Red Bellied Pitta right across the other table! We learned that the bird accidentally hit a glass window.  I listed down about 42 bird species in total.
The Tanay Rainforest Camp is a wonderful place for both new and experienced birders.  There are amazing views, green all around, many different species of wildlife, cool weather and fresh air. It was indeed well worth the trip! A thoroughly fascinating and great birding experience! I would definitely go back again!