WBCP member Ruth Francisco's birdwatching trip to Samar was covered in the news when she spotted a Philippine Eagle in an area where it had not been seen since the 90's. She shares the  story of her amazing encounter, along with details on how to plan a birdwatching trip to Samar.
—
Finding the World's Rarest Eagle in Samar
by Ruth Francisco, member of the Wild Bird Club of the Philippines
Dipping on the elusive Mindanao Bleeding-heart last August had led me to re-visit Samar. It has been said that if there's no rain for 3 or 4 consecutive days, this rarely seen dove will not be difficult to find in its habitat. But as soon as my plane touched down Tacloban Airport, all my hopes of seeing my target this time vanished. A wet runway, dark and heavy rain clouds, and a little hint of sunlight welcomed me to Tacloban.
Upon reaching the Samar Island Natural Park (SINP) Headquarters, 6 plump Blue-Crowned Racquet-tails flew by, just a few feet above me, right before a brief spell of rain started.  Together with a park guide, I spent the whole afternoon birding in the short SINP forest trail above the headquarters. Unlike my last visit, the forest was very quiet. Last August, the same forest gave me a big checklist payoff, including the Visayan Miniature-babbler.
A Big Surprise
Second day's adventure started with a 45-minute crazy motorcycle ride from Paranas to the Taft Wildflife Forest Sanctuary in an intermittent drizzle and brief spells of rain. We were greeted by lots of birds, such as the Purple-throated Sunbird, Red-Keeled Flowerpecker, Orange-bellied Flowerpecker, Buzzing Flowerpecker, Brown-breasted Kingfisher among others, as we drove along Paranas-Taft Road to Taft Wildlife Forest Sanctuary,.
We entered the forest trail at around 7:30.  Amidst intermittent showers, the lush green rainforest was full of life. Bulbuls (Philippine Bulbul, Yellowish Bulbul, and Yellow-wattled Bulbul), doves (White-eared Brown-dove and Amethyst Brown-dove), sunbirds, and flowerpeckers were calling left and right. Accompanying this cheerful avian chorus were the crickets, frogs, and monkeys.
Halfway through the slippery, rugged trail, I heard a dove calling. I suspect it could either be a Black-Chinned Fruit-dove or the Mindanao Bleeding-heart—both are a possible lifer (a bird seen for the first time) to me! As we wait for the dove to display, we pay close attention to its call while trying to approximate its distance from us and watched out for any possible movements.
Moments later, the loud calls of a flock of Rufous Hornbills from the canopy caught our attention. As I look up and study the treescape above us, I imagine the Hornbills crossing from the canopy to the trees atop the cliff in front of us. Hopeful that the Hornbills will oblige, I aimed my camera towards the cliff.  As I scanned the cliff I see a huge raptor proudly perched on a leafless tree atop the cliff about 60 meters away from where we stand. "It's a raptor—an eagle but I'm not sure what species it is," I told my guide. As I looked through my bins, I noticed its all-white underparts, dark brown upperparts and long wings. As the wind blows off the shaggy crest on its crown, "Ohmigosh, it's the Philippine Eagle!" I exclaimed.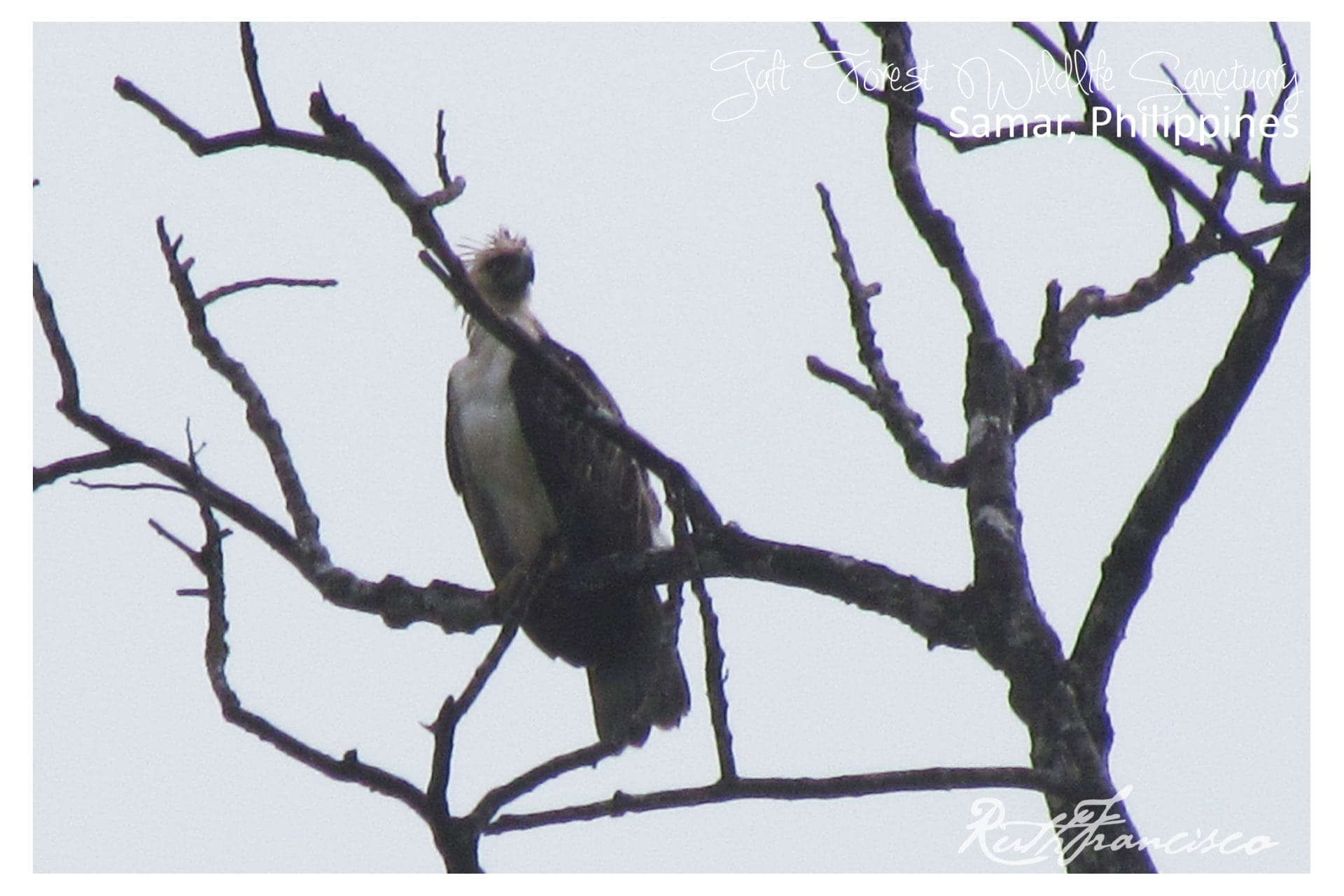 Thrilled, excited, and still in denial that my number-one-most-wanted bird is perched on a branch right above us, I snapped a few shots with my camera to document the sighting though my hands were trembling. Deep inside I wanted to rejoice and shout "Wow, the Philippine Eagle a lifer, at last!" But we have to keep calm and suppress our emotions so as not to disturb the Eagle. I wished to capture as many shots as I can and record a video that can be useful for encouraging greater conservation efforts, especially for Samar.  Thankfully the Eagle gave us enough time to observe its morning preening ritual.
Minutes later, 1―2―3…3 Rufous Hornbills flew by and one-by-one they perched on a leafy tree not too far (but within safe distance) from the leafless tree where the lone Eagle is perched. As the third Hornbill joined the wailing Hornbills, the Eagle finally flew away. "Wow, many have attempted to find it, but none has seen it (here)," my trail guide exclaimed.  Our 5-minute heart-stopping encounter of the rarest eagle in the world feels surreal.
After a BIG dip in Mt. Kitanglad—one of the most reliable areas to see the king of the Philippine rainforests—last month, finding the Philippine Eagle in Samar is totally a BIG surprise to me. Also, despite some attempts to find it in the forests of Samar, there were however no confirmed sighting since the 90s.
The first-ever sighting of the Philippine Eagle by John Whitehead and his assistant was recorded in 1896 in Paranas, Samar. One hundred years later, a staff of the regional office of DENR in Leyte had found and photographed a fledgling on a nest. With the various sightings of the Philippine Eagle in the forests of Samar, 3,720 hectares of the said forests were declared as the Taft Forest Wildlife (Philippine Eagle) Sanctuary in 1999. A biodiversity conservation project, known as the Samar Island Biodiversity Project (SIBP), was implemented to establish SINP as a new protected area zoned, in partnership with forest-edge communities to conserve biodiversity and reduce poverty among the local communities.
A Proof of Life and A Challenge for Conservation
Nature is full of surprises. I did not find any bleeding-heart, but found HOPE instead. A vital proof of life for the remaining lowland rainforests of Taft, the presence of the Philippine Eagle is a good reason to be hopeful that the world's rarest eagle still has a chance to survive in its natural habitat. It also serves as a good indicator that active conservation efforts helped maintain a good ecological balance in the rainforests of Samar which prevented the extinction of the Philippine Eagle in one of the 4 Philippine islands where it can be found (i.e., Leyte, Luzon, Mindanao, and Samar).
The survival of an adult Philippine Eagle in the rainforest of Samar is nonetheless a victory that comes with great responsibility for every Filipino, especially the people of Samar. Its continued survival largely depends on the size and condition of its habitat. Although less prevalent than in other forests in the country, deforestation, along with illegal hunting and wildlife trade, remains the greatest threat to the continued survival of the king of the Philippine rainforests. As the demands of the expanding population continue to grow, while law enforcement remains weak, habitat loss will continue.
As the Philippine Eagle is still at an extremely high risk of extinction from the wild due to rapid loss of its habitat, conserving and maintain ecological balance in the remaining forests of Samar is indeed a big challenge for our generation today. The recent sighting therefore reminds every Filipino, that unless we do our share in saving the remaining rainforests in the country, the Philippine Eagle, along with our other avian treasures, will soon vanish.
I hope that one day the Philippine Eagle will be the world's rarest eagle no more. I wish that the future generation, birders and non-birders alike, will also have a chance to be thrilled and excited to find the magnificent king of the Philippine rainforest in the wild.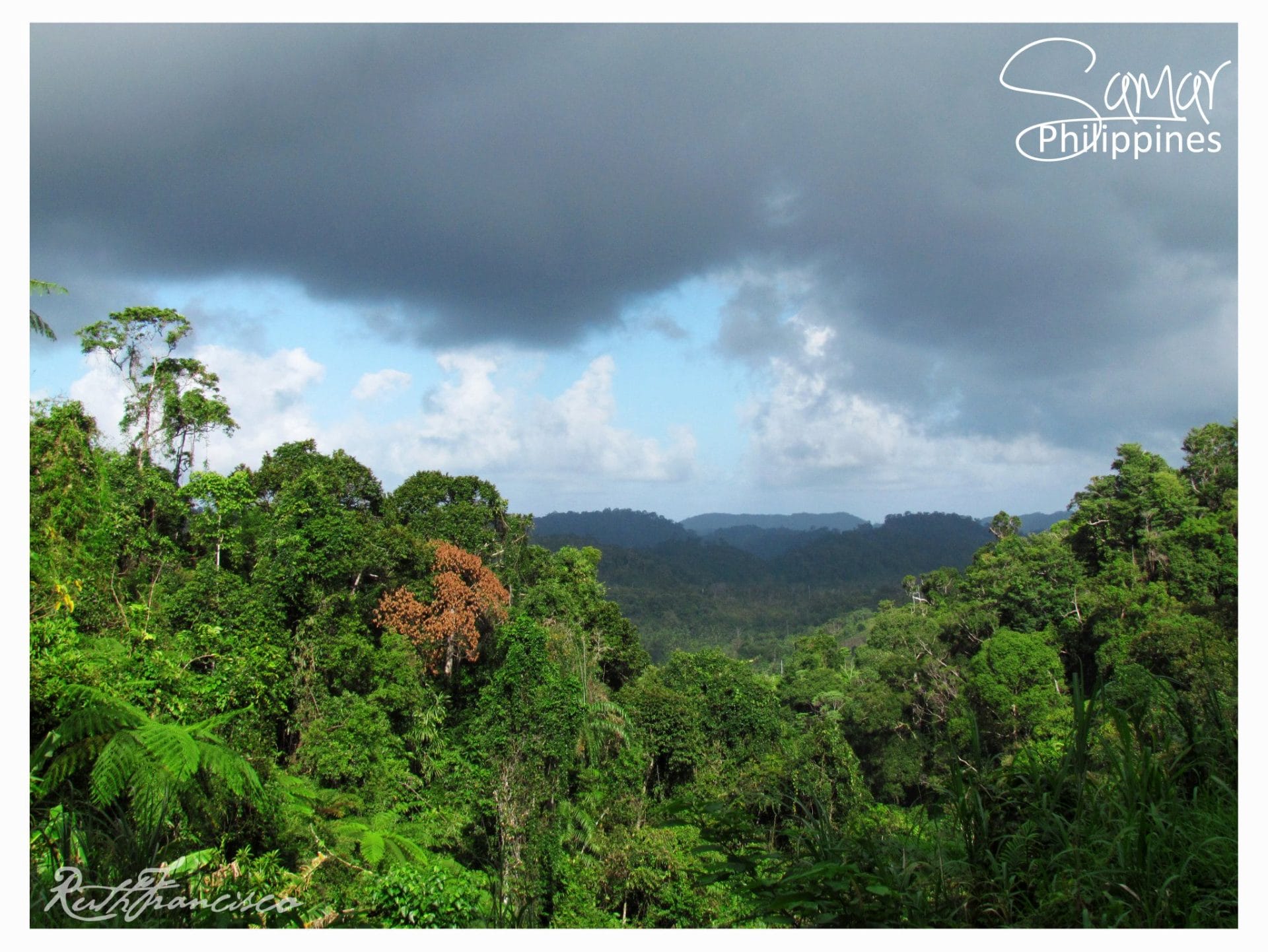 Endnotes:
Based on the photos and video of the Philippine Eagle sighted in Taft, Samar, experts at the Philippine Eagle Foundation (PEF) suggest that it is a male of reproductive age (at least 7 years old).
On the following morning, we went back to check if the king of the rainforest will display again on the same tree. However, we weren't successful this time.
Other birds seen around the forests of Taft: Philippine Serpent Eagle, Samar Hornbill, Olive-backed Sunbird, Purple-throated Sunbird, Whiskered Treeswift, , Philippine Coucal, Yellow-breasted Fruit-Dove, Coleto.
How to Get There:
Samar Island Natural Park Headquarters (SINP HQ) in Brgy. Campo Uno, Paranas, Samar is 120 km away from Tacloban and can be easily reached by public buses and vans operating at the Tacloban (Abucay) New Terminal.  Travel time is around 2-3 hours.
Cebu Pacific, PAL/PAL Express, Zest Air and SEAir fly daily from Manila to Tacloban and v.v.  Cebu Pacific and PAL also fly directly from Cebu to Tacloban and v.v
Jeepneys and taxis operate from the airport to any part of the city, including the bus terminal. Jeepney fare is PhP 50/person, while the flat rate for taxi is PhP 250 per way.  Van for hire service is also available at the airport.
Where to Get Permit:    
E-mail PASu Gaga Villanueva (angelitovillanueva1089@yahoo.com) to secure a permit and arrange a guide (Fee: PhP 250/day).
Where to Stay:       
SINP Ecolodge offers basic A/C dorm-type rooms for guests (PhP 150-200/head).
When to Go:         
Anytime of the year. Samar has no pronounced dry season but it is relatively dry beginning mid-April and lasts until late June while maximum rainfall is experienced from December to January.
*Note: Fees and fares as of March 2013.