by Maia Tañedo
---
Good news for Philippine birders! A new photographic field guide of Philippine birds is available at local bookstores. WBCP members Maia Tañedo, Robert Hutchinson, Adrian and Trinket Constantino have just come out with a new field guide of 280 of the most commonly seen species in the country. This would make a great book for budding birders, nature-lovers, and anyone who wants to learn more about Philippine birds.
---
Naturalist's Guide to the Birds of the Philippines
The Naturalist's Guide to the Birds of the Philippines is a field guide containing full-color photographs and descriptions of 280 bird species in the country. Published by John Beaufoy Publishing, it is one of the latest additions to their Naturalist's Guide series which includes other titles such as the "Naturalist's Guide to the Birds of China," the "Naturalist's Guide to the Mammals of Southeast Asia," and the "Naturalist's Guide to the Butterflies and Dragonflies of Peninsular Malaysia, Singapore, and Thailand." Co-authoring the books with me are friends and fellow WBCP members Rob Hutchinson and Adri and Trinket Constantino. A number of bird photographers were also tapped to contribute bird photos for the field guide.
Format and Content
The book's format is very straightforward. There are two birds featured on each page with accompanying photo, description, distribution, their habits and habitats, and some sites in the Philippines where they can be seen.  The book also contains a map of the Philippines (on the inside front cover) and another map showing major birdwatching sites in the Philippines (on the inside back cover.) It also has a complete checklist of the birds in the country which also includes their IUCN red list status and distribution. There is also information about the Philippines' geography, island groups and weather patterns, as well as different habitat types and bird communities. There are also descriptions of some of the more popular birding sites across the country.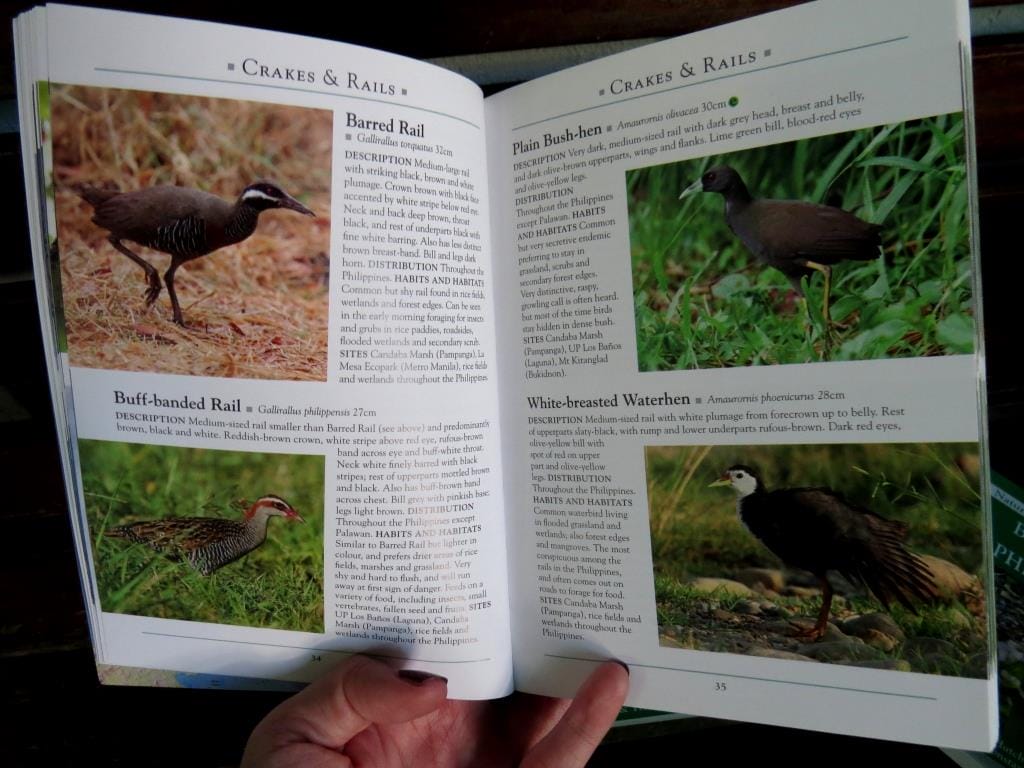 Target Audience
The field guide is perfect for anyone who would want to know more about the different birds in the Philippines. It can be used by newbie birders to help them identify and become more familiar with the birds they start seeing and it is also a handy companion to more experienced birders and can serve as a quick reference.
Availability
The book is distributed locally in the Philippines by National Bookstore and Powerbooks and should be available nationwide soon. The field guide can also be found online in Amazon.com, Book Depository, and in a number of other sites as well. It is also available in bookstores in Malaysia as reported by our friends there.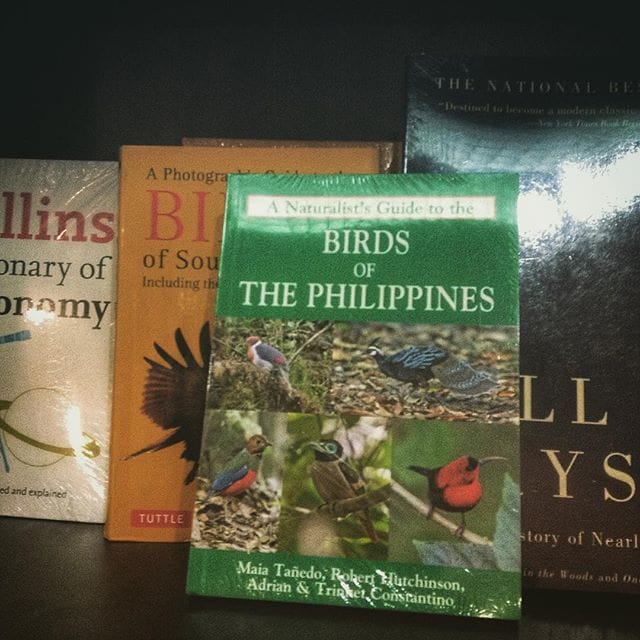 On Writing The Book
Completing this book was a major bucket list tick for me. Being a bookworm and birdwatcher, what better project than to write a book about birding! Looking back, I really enjoyed the process of working on the field guide. All those late nights writing, selecting photos, proofreading, editing and revising (and editing and revising again) were tiring but became fun because it was done with good friends. Hopefully everyone who gets a copy will enjoy the field guide and find it really useful. Let us know what you think! Happy birding everyone!