By Mads Bajarias
---
Birders and non-birders alike were outraged and frustrated to hear the sad news about another released Philippine Eagle killed after being released. WBCP member and journalist Mads Bajarias sorts out facts from speculation regarding Pamana's untimely death.
---
On August 19, 2015, grim news arrived from Davao that Pamana, the female Philippine Eagle that was released in the Mt. Hamiguitan Range Wildlife Sanctuary in Davao Oriental last June 12, was found dead on Aug. 16, barely two months after her reintroduction to the wild.
Pamana was three years old at the time of her death.
Before her release, Pamana was in the care of Davao-based Philippine Eagle Foundation, which rescued her and took care of her after she was found with gunshot wounds in the mountains of Lanao del Norte in 2012.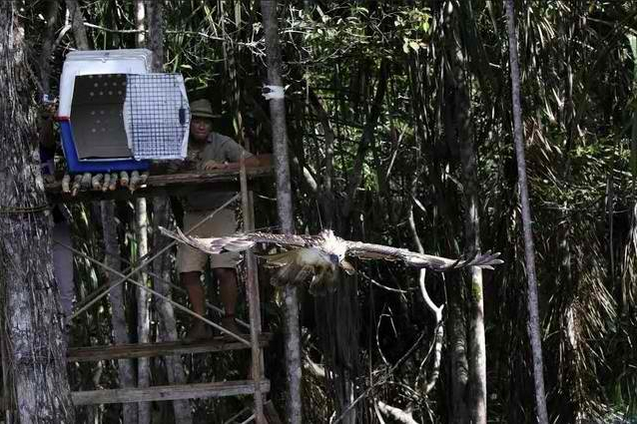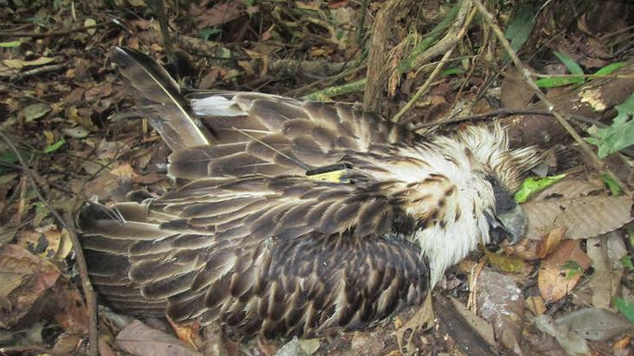 The foundation had outfitted Pamana with a "backpack transmitter" that allowed a team of experts to monitor her movements. On Aug. 10, the team saw that the transmitter had entered into "mortality mode," which is triggered if the device has not moved for six hours. The foundation dispatched a team to track down Pamana, and six days later, they discovered her dead body near a tributary of Mindangan River about a kilometer from her release site.
The foundation's report on Pamana's death is straightforward: She was in an advanced state of decomposition when found on Aug. 16. Her breast showed a puncture wound about five millimeters in diameter. A metal fragment, most probably from an air gun pellet, was found in her remains. Ana Lascano, a veterinarian for the foundation, stated that Pamana, "suffered from gunshot wound leading to possible trauma."
The PEF's conclusions are simple enough to understand, but on Sept. 2, an interview of Mt. Hamiguitan Protected Area Superintendent Ruel Colong was published in MindaNews, a local newspaper, in which he gave statements that have muddled the issue surrounding the eagle's death. Among the claims made by the PASu in the interview was that Pamana's untimely death may have been caused by her being released in the "wrong" place. The implication of his statement is that Pamana should have been released higher up the mountain, where presumably she would have been safer.
Colong also said his office is looking at other potential contributory factors to Pamana's death, specifically whether local residents were informed adequately about her release, her physical condition prior to release and whether an effective conservation plan was in place before she was released.
This prompted PEF Director for Research and Conservation Jayson Ibanez to issue a clarification citing data gathered from Pamana's transmitter and years of raptor behavior research, among other sources, to dispute Colong's claims.
It is illogical to claim that Pamana was released in the "wrong" elevation, said Ibanez. Eagles and other wildlife will always travel from relatively safer higher elevations to relatively more dangerous lower elevations in search of food, Ibanez said.
Pamana was in excellent health. She stayed within a certain radius of her release site (which was at about 400 meters above sea level) and did not relocate higher up the mountain simply because food is scarcer as one goes higher.
"The higher elevations of Mt Hamiguitan are covered by bonsai or 'elfin' forests, which is naturally depauperate (poor) in terms of flora and fauna. Thus, the habitat has very little large mammals, including Philippine Eagle food items such as flying lemurs, palm civets, and monkeys," he explained.
If Pamana had found few food items around her release site, she would have "easily flown away to track better places, just like what eagles do in the wild," Ibanez said, adding that PEF has studied the movements of 16 Philippine Eagles since 2008.
"Everyone has the right to speculate, but the proximate cause of death is crystal clear — the bird was killed by a gunshot," Ibanez stated.
"It is lamentable that rather than do something meaningful about the problem [of hunting and poaching in the mountain range], the PASu Office is denying that the problem exists altogether," he wrote.
On whether the information campaign relating to Pamana's release was adequate enough, Ibanez wrote that PEF is not a newcomer in this activity. It has been working on community-based conservation programs in at least 10 known eagle territories in Mindanao, including the lone known eagle-nesting area within the Mt. Hamiguitan range. For many years now, PEF has been working with various local government units, the Department of Environment and Natural Resources, and local communities to spread the word about the plight of the National Bird, he said.
What has been the upshot of Pamana's death? Various individuals and entities have offered monetary rewards for information leading to the arrest of the killers, and this bounty has swollen to at least P650,000; the Senate Committee on Environment and Natural Resources has launched an inquiry into her death (but whether this will lead to something meaningful is unclear); and the DENR has imposed a moratorium on Philippine Eagle releases into the wild until Pamana's killers are identified and more guarantees are in place that released eagles won't get shot to death again.
To learn more about the facts surrounding the death of Pamana and where the circumstances of her death fits into a bigger pattern concerning eagle conservation, I asked PEF Executive Director Dennis Salvador some questions. Here are some of the things I learned from him:
One, some reports say that Pamana's body was found outside of the "protected zone" of Mt. Hamiguitan. This is contentious. The original Mt. Hamiguitan Range Wildlife Sanctuary was comprised of about 6,000 hectares of mainly high-elevation bonsai forests, but it has been expanded to cover more than 25,000 hectares including formerly unprotected lowland dipterocarp forests through a Unesco World Heritage Site designation, and declared a "local conservation area" under the management of the local government unit of San Isidro. Pamana's body was found outside of the bonsai forest zone but within the expanded Unesco World Heritage Site. Regardless of where it was found, the killing should still be covered under the Philippine Wildlife Act or Republic Act 9147.
Two, 90% of young eagles (aged 1 to 2 years old) that were rehabilitated and released into the wild by PEF ended up getting killed by people with guns. One in every two eagles outfitted with transmitters and released into the wild are killed, mainly by guns. These are the Philippine Eagles that succumbed to gunshots in the wild: Kagsabua in 2008, Hineleban in 2009, Hagpa in 2011, Minalwang in 2013, and Pamana in 2015.
Three, only two culprits have been convicted of killing Philippine Eagles so far. One was fined a paltry P1,000 by authorities, and the other was jailed for six months because he failed to pay a court-imposed fine of P100,000. Both woefully fall short of the range of penalties prescribed in the Wildlife Act for crimes against critically endangered species. In R.A. 9147, the penalty for such acts is a minimum of six years and one day up to 12 years in prison "and/or" a fine of P100,000 to P1 million.
During the Senate inquiry on Sept. 1, PEF presented two proposed urgent reforms: 1) enforcement of laws protecting flora and fauna should be "reasonably strict, certain and swift," and 2) expansion of "geographic coverage of locality-based conservation programs to as many eagle nesting and release sites as possible."
It is a welcome sign that the Senate has shown interest in the welfare of Philippine Eagles, Salvador said, but "the warning that we may lose the species within the next two human generations did not seem to resonate in this august body."
What can ordinary citizens do to support the welfare of our endangered eagles? "I encourage people to petition their congressmen to do something about eagle shootings and to amend the penalty clause of the Wildlife Act to 'six to 12 years imprisonment and a fine of P100,000 to P1 million,'" said Salvador.
People can volunteer or donate to the PEF to help us advance our mission to save our national bird, he added.
Meanwhile, Pamana's killers, like many others before her, are still out there.
"Bringing to justice those who killed our national bird is very important, but so too is creating the right physical and socio-cultural environment where poaching and killing of Philippine eagles and other precious wildlife is prevented altogether," said Ibanez in a message.
UPDATE: After the publication of Ibanez's rebuttal to the PASu's statements, officials from both the DENR and PEF met to clear the air and find a way forward. One of the things agreed upon in the meeting was for PASu Colong to revise his official report on the incident by deleting statements that were deemed speculative. Both parties also agreed to work together, along with the Philippine National Police and the National Bureau of Investigation, to solve the case of Pamana's killing.