General Birding Information
With 7,100 islands stretching from the Malayan-Indonesian complex in the south to close to Taiwan in the north, sandwiched between the South China Sea and Pacific Ocean the Philippines is both a rewarding and difficult place to bird-watch. The processes of geography and evolution has left one of the highest degrees of endemism known in the world with 241 species of birds only found within the archipelago, while the list of non-endemics reaches around 468 species (WBCP Checklist of the Philippines 2020, as of 15 February 2020). These numbers have been increasing in recent years as more people are getting into birdwatching and more foreign tours visit the islands. Add to those species mainly found within islands and a huge potential for further splits, and one can see the attraction for birding here.
There are three generally recognized geographical regions – Luzon, the Visayas and Mindanao, although for birdwatchers, the province of Palawan is an area that must be treated separately.
Luzon
The largest island with a limited number of associated islands off the north and east coasts, Luzon contain all the major habitats from mossy forest to marshlands. Due to logging there is extremely limited lowland forest left but within most mountainous areas small remnants of forest can be found. The island is relatively easy and safe to move around and with fairly good transportation links. There are a few birdwatching sites within or close to Metro Manila but most endemics are found scattered a day or two's travel away.
Visayas
The belt of the Philippine archipelago, the Visayas consist of the majority of the islands. In ornithological terms there are two or three major areas – the Negros/Panay complex in the west, Cebu in the centre and the Bohol/Samar/Leyte group to the east, which have many shared species with Mindanao to the south. Environmental degradation in this region is extreme – especially in the east where several species are located in very small forest patches and some species may even be already extinct or in non-sustainable situations. Travel is again not difficult and the area is generally peaceful and easy to access. With most of the islands being small, travel time to sites is normally a day although there are no formal organised transportation links and most visitors use local guides.
Mindanao
A large island close to Borneo, Mindanao is also all to often seen in the news or travel advisory lists as a place to avoid. Instability does occur but in general it is within certain areas and other regions are peaceful and the people receptive. With a host of endemics, and being the last holdout for the Philippine Eagle, one can see why most people still want to visit but areas are restricted and travel mainly must be done with prior organization or with extra days on hand to move about. 
Palawan
Some of the easiest birding in the country and set in a truly tropical setting, Palawan is a favourite for anyone. With its own set of birds quite distinct to the rest of the country and a good set of migrants it makes a pleasant change from the hard work of the heavily trapped and bird-poor forests of the rest of the Philippines. 
Other wildlife
As with other tropical countries the forests abound with insects and reptiles making a pleasant diversion while waiting to see a bird. Orchids are also abundant and as with the birds, endemism is also common across all the biological communities.
Weather and other considerations
Although Mindanao has a more equatorial climate to the northern areas in general the islands are governed by a dual season climate – wet (June-October) and dry (December – April). Temperatures are normally between 25-35 although the mountains can be cold at night in the early part of the year. Malaria remains in a very few areas but is not a major problem and other diseases are not significant. Most normal facilities (food, health care, airports etc.) are available within a day's trek of any of the birding sites.
Sites
First time birding in the Philippines? Have a few hours, just a day or two, to go out? Here are some sites that you can go to that are fairly accessible to all types of birdwatchers and that could fit to different schedules.
Metro Manila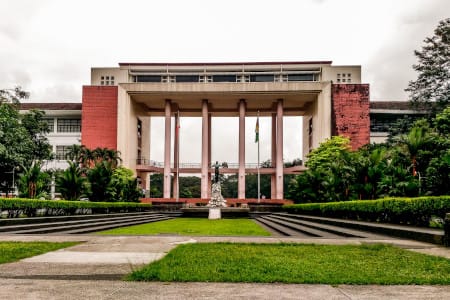 UP Diliman Campus
One of the most popular places to go birdwatching in Metro Manila and probably where most local birders have had their first taste of birding is the University of the Philippines campus in Diliman, Quezon City. The main campus of the university sprawls over approximately 500 hectares of land and has a variety of environments where you can spot different types of birds.
Anywhere in the campus is a potential birding spot, as some would say, but to maximize your birding experience, go straight to the usual tried-and-tested birding places- the Academic Oval, the Science Complex, and Hardin ng Rosas.
A mix of endemics and resident species can be found in the main campus area – Striated Grassbird, Long-tailed Shrike, Philippine Magpie Robin, Philippine Pied Fantail, Philippine Hanging Parrot, Zebra Dove, Collared Kingfisher, Lowland White-eye, and Olive-backed Sunbird. On occasions, some urban rarities would show up like the Spotted Wood Kingfisher and Philippine Hawk Cuckoo. Notable migrant species that have been recorded here include Ferruginous Flycatcher, Narcissus Flycatcher and Chestnut-winged Cuckoo. Nocturnal birds include the Philippine Scops Owl and Philippine Nightjar. While the habitat of Hardin ng Rosas is where you could find munias, grassland and some wetland species.
The beauty of birding in the campus is its accessibility in terms of permits and transportation. Anyone can visit the campus any time, any day even if you are not officially part of the university. No permits are needed except when you are coming in large numbers, coming in by chartered bus, or bringing large cameras; and transportation to and from the campus can be done via private or public transportation.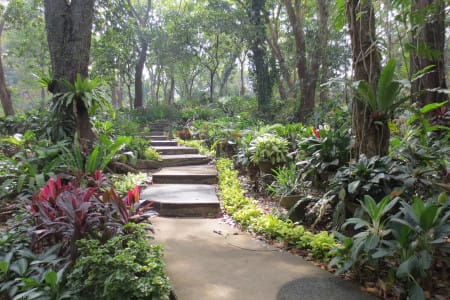 La Mesa Eco Park
La Mesa Eco Park (LMEP) is a 33-hectare public park adjacent to the La Mesa Watershed in North Fairview, Quezon City. It is open from 8:00am to 5:00pm, but if you come earlier and say you're going birding, you'll be allowed to come in. Just pay the entrance fee of Php 50 when you come out.
From the entrance, you'll already be greeted by the sounds of Black-naped Orioles, Golden-bellied Gerygones, Philippine Pygmy Woodpeckers and Lowland White-eyes. A short walk will bring you to a small lagoon and terraces where the Barred Rail, White-breasted Waterhen, Collared Kingfisher, Common Kingfisher and Philippine Coucal have been spotted. But the main area for birding in LMEP, which has made the park a must-go-to site for birdwatchers is the Mini Forest trail where endemics like the Ashy Thrush, Spotted Wood Kingfisher, Philippine Pitta, White-eared Brown Dove, and Philippine Coucal have been spotted. Migrants like the White's Thrush and Brown-headed Thrush have also been spotted.
The park is accessible via private car, taxi, and public transport. It would be a good thing to go to the park before opening time to avoid the crowds of picnic goers.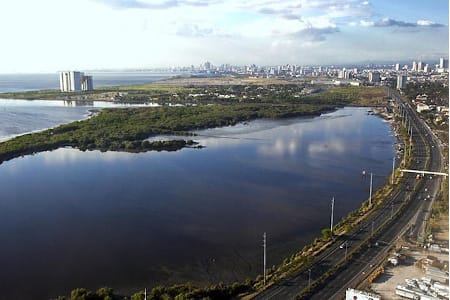 Las Piñas-Parañaque Wetland Park
The Las Piñas-Parañaque Wetland Park (LPPWP) is composed of two interconnected islands with beach forest, mudflats and lagoons covering 175 hectares. Based on the bird sighting records of the WBCP, the wetland park was declared a critical habitat in 2007 and as a RAMSAR site in 2013.
LPPWP is the only site in Metro Manila that hosts the vulnerable Philippine Duck. It also serves as a winter habitat for more than 1% of the East Australasian-Asian Flyway population of the Black-winged Stilt and the Common Greenshank. There have also been sightings of the Chinese Egret. More than 80 species have been recorded such as the resident Rufous Night Heron, Black-crowned Night Heron, Barred Rail, Collared Kingfisher and more. Migration season brings in Kentish Plover, Common Redshank, Whiskered Tern amongst others.
Visitors need to secure a permit from the DENR-NCR, 7 working days before the visit. It is recommended to have a private or hired vehicle when going to LPPWP, as there is no public transportation to and from the site. The site can be accessed by way of the Coastal Road heading towards Cavite, and turning right before reaching the toll gates. You can also use Waze or Google Maps for driving directions.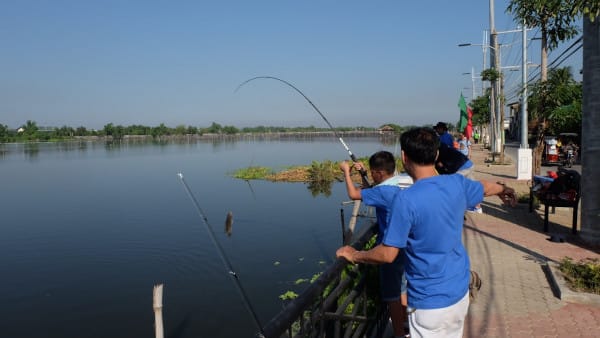 Tagalag Fishing Village
Tagalag Fishing Village in Valenzuela City, is a fairly new site when it comes to birdwatching. When the City Government started promoting it as a park for recreational fishing, it also saw the potential as birdwatching site.
Located near the city's northern border with Obando, Bulacan, Brgy. Tagalag has preserved its distinctly rural ambience and atitude, which is quite a fresh change from the NCR's urban pollution and hustle and bustle. With huge fishponds of several hundred hectares surrounding the area, a variety of waterbirds can be seen, which include Little Egret, Common Moorhen, Yellow Bittern, Purple Heron, Striated Heron, Black-crowned Night Heron, White-breasted Waterhen, and Pheasant-tailed Jacana. But the place really comes alive during migration season when thousands of Black-headed Gulls and Whiskered Terns, and Cattle Egrets by the hundreds, can be seen floating on the ponds or perched on nets or floating hyacinths. The likelihood of spotting rare migrants is one of the reasons why birdwatchers will keep coming back to this area.
Entrance to the Tagalag Fishing Village is free. Getting there may be a bit tricky, as roads are rather narrow and road repairs may vary the directions inside Tagalag, but you will get there, with a little help from Waze or Google Maps. That being said, having a private car or going by taxi would be your best option and there is enough parking. Park rangers are always nearby if you need help or more information.
Luzon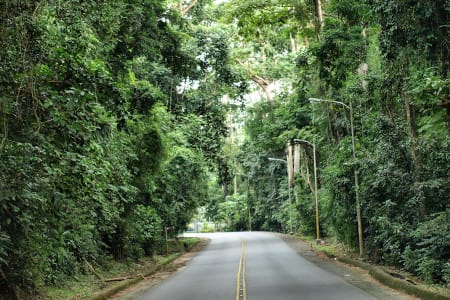 Subic Bay Forest
The Subic Bay Metropolitan Area (SBMA) includes the biggest remaining patch of lowland tropical rainforest in Luzon facing the South China Sea. Owing to the protection the area received when it was still under the control of the U.S. Navy, large sections of original forest still remain, particularly in the old Naval Magazine area where the Nabasan Road and Hill 394 birding spots are located. 
Nabasan Road is the last bastion of the endemic Green Racket-tail, the only place where Rufous Coucal is regularly seen, and the best place to find Luzon's big woodpeckers: White-bellied Woodpecker, Luzon Flameback and Northern Sooty Woodpecker. It is also a good place to look for Philippine Hawk-eagle, Philippine Falconet, Whiskered Treeswift, Green Imperial Pigeon, Philippine Green Pigeon, Spotted Wood Kingfisher, Blackish Cuckooshrike, White-browed Shama, Chocolate Boobook, Luzon Hawk-Owl, Philippine Nightjar, Great-eared Nightjar, and Large-tailed Nightjar.
Hill 394 is the destination for birders who aim to catch a glimpse of two of the country's most elusive birds: White-lored Oriole and White-fronted Tit. However, due to local restrictions, birders must first apply for a birdwatching permit from the SBMA Ecology Center before being allowed into Hill 394.
The site is a four-hour drive from Manila and due to the absence of public transportation in SBMA, birders must have their own vehicles when traveling there.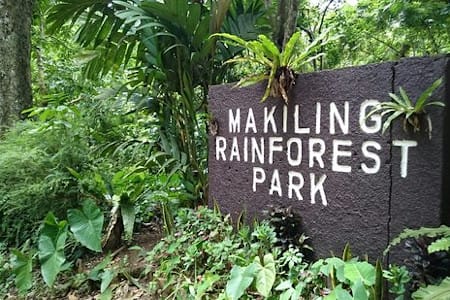 Mt. Makiling Forest Reserve
Mount Makiling Forest Reserve is a protected area known to contain a significant portion of the remaining highly diverse tropical rainforests in the country. Despite being located in a densely populated part of South Luzon, it is known to be home to rich assemblages of some of the country's restricted-range bird species. An estimate of 120 bird species, with 59 endemics have been recorded in the area. The long list includes the Luzon Bleeding-Heart, Philippine Trogon, Red-Crested Malkoha, Spotted Kingfisher, Luzon Hawk Owl, Philippine Nightjar and a whole lot more.
Among the popular sites visited are the Makiling Botanic Gardens and the Mt. Makiling Forest Reserve Trail. Entrance to both sites is inside the University of the Philippines – Los Baños (UPLB) campus. The campus itself has several good spots for birding, as well. Sites are either free to access or with minimal entrance fees required.
UPLB is relatively accessible from the nation's capital. One can make the trip via private or public transport to the campus. Do take note of the note of the opening times for the trail and botanic gardens. Local guides may be contacted/availed to maximize your visit to this site.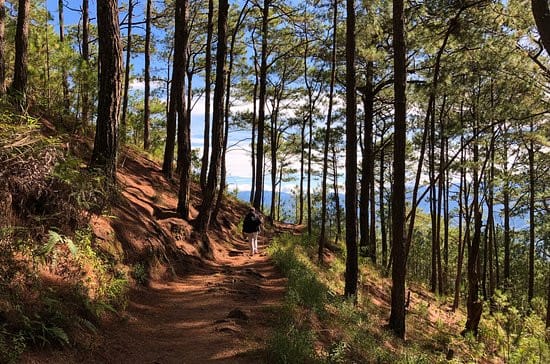 Camp John Hay, Baguio City
Located in the nation's summer capital Baguio City, Camp John Hay (CJH) is an accessible site for birdwatchers to spot some of the montane species found in the country.
There are two main trails for birdwatching in CJH – Yellow Trail and Eco Trail. Entrance to the Yellow Trail is near the new Butterfly Sanctuary or in front of the Children's Park and the mini-golf area. While the Eco Trail begins at the paintball area along Ordonio Drive, just opposite Le Monet Hotel and it ends at the old main gate of the Camp John Hay.
Some of the montane species that have been recorded in CJH include Chestnut-faced Babbler, Mountain Tailorbird, Luzon Bush Warbler, Benguet Bush Warbler , Turquoise Flycatcher, Orange-bellied Flycatcher, Bundok Flycatcher, Citrine-Canary Flycatcher, Little Pied Flycatcher, Warbling White-eye and Sulphur-billed Nuthatch. CJH is also known to local birdwatchers as a site for migrant flycatchers during migration season.
Entrance to both trails are free. The most convenient way to go to CJH is to take a taxi if you do not have a ride. If you have your own car, parking is available near the entrances of both sites. One can start birding between 7:00 AM – 9:00 AM. Thereafter, the birds thin-out and moreover, people start coming in.
Visayas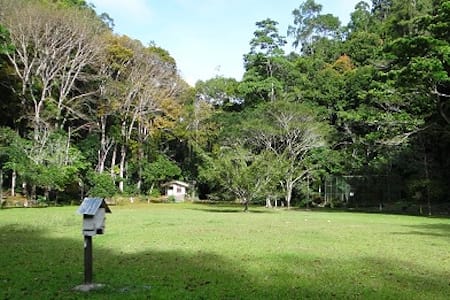 Rajah Sikatuna National Park, Bohol Province
This excellent lowland park situated in Bilar is home to most of Bohol's special birds. It has several well-marked trails named after birds like Oriole Tail, Pitta Trail and Brahminy Trail.
Bohol offers species endemic to the island as well as some.overlap with some Mindanao birds. Endemics here include Yellow-breasted Tailorbird, Azure-breasted (Steere's) Pitta, Samar Hornbill, Rufous-lored and Northern Silvery Kingfisher, Philippine Trogon among others. Aside from birds, this is a good place to look for Long-tailed Macaques, Philippine Colugo and Philippine Tarsier.
The park is around 1.5 hour drive from Bohol's capital city of Tagbilaran. The best way to get to the park is by private car, as there are limited options for public transportation. Upon entry, a park entrance fee is collected and you are assigned a required park guide. For overnight options, there are basic accommodations inside the park (no food though), as well as in Bilar Town.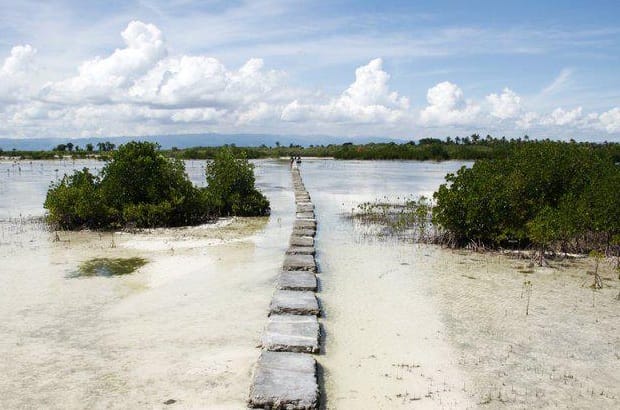 Olango Island Wildlife Sanctuary, Cebu Province
Located in the Central Visayas region of the Philippines, the 5,800 hectare of intertidal sandflats, mangroves, seagrass beds, coral reefs and islets
of Olango Island Wildlife Sanctuary is a haven for migratory birds that come from Siberia, Nothern China and Japan.
Over 10,000 shorebirds have been recorded at one time, with total numbers approaching 50,000. As an important site for rare waterbird species, the Asian Dowitcher and Chinese Egret, it was recognized as the first RAMSAR Site (Wetland of International Importance) in the Philippines in 1994. Around 98 species have been recorded in the sanctuary, with migrant species totaling to 48.
Timing is everything on Olango Island. Check out the tide schedules before going there (https://tides.mobilegeographics.com/), with the best conditions having a low tide when you arrive in morning and an incoming mid-tide during the mid-morning.
Getting to Olango Island is fairly easy. There are boats with regular schedules ferrying passengers from the port beside Movenpick Hotel on Mactan Island to Olango. Fares and entrance fees to the Sanctuary would be minimal (do search the web for latest fees) and pack some food if you plan to stay for most of the day as stores would be available in the immediate vicinity of the sanctuary.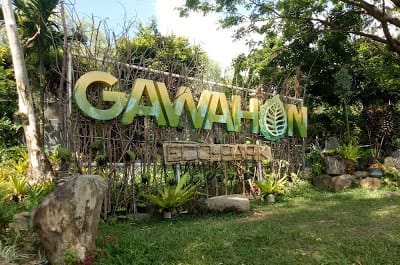 Gawahon Eco Park, Negros Occidental
Lying on the northwestern edge of the Northern Negros Natural Park (NNNP), Gawahon Eco Park in Victorias City showcases mid- to high-elevation forest with several natural pools and waterfalls.
The park is becoming popular to birdwatchers because it's fairly accessible and a site to catch some Visayan endemics including the Black-belted Flowerpecker, Flame-templed Babbler, White-throated Jungle Flycatcher, Visayan Hornbill and Negros Scops-Owl.
Gawahon Eco Park is about an hour and ten minutes drive from the New Bacolod-Silay Airport and about 1 1/2 hours drive drive from Bacolod City. Having a private or hired car would be the easiest way to get to the park very early, as this is a popular destination for locals. Overnight accommodations are also available at the park, liveable but they're a little run down.
Contact the Gawahon Eco Tourism Development Office prior to visiting (http://victoriascity.gov.ph/gawahon-eco-park/)
Mindanao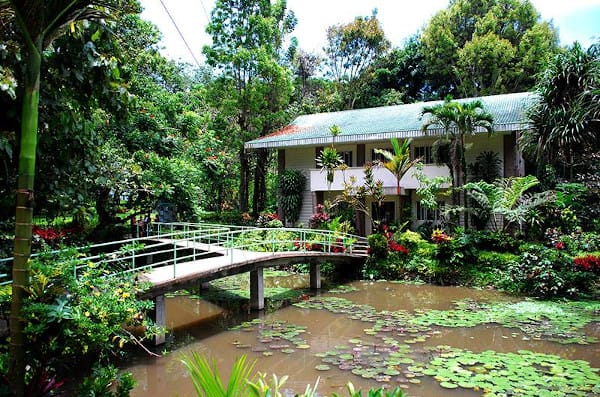 Philippine Eagle Center, Davao City
Information to follow.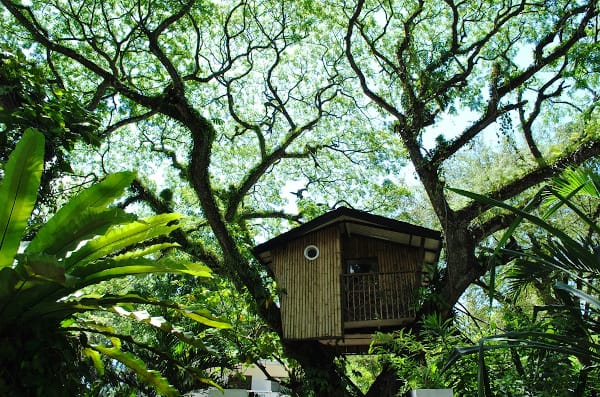 Pasonanca Natural Park, Zamboanga City
One of the easiest birding sites in Mindanao is the Pasonanca Natural Park (PNP), a protected area that serves as the watershed of Zamboanga City. Its more than 12,000-hectare area is the largest remaining block of old growth lowland dipterocarp forest in the Zamboanga Peninsula.
There are three access areas for birding in PNP but only two of these are popular to birders. The easiest is at Canucutan, which is only about 9 kilometers from the town proper. The other one is Baluno, which is about 25 kilometers from the city proper. Some of the endemic birds seen in PNP are the White-eared Tailorbird, Zamboanga Bulbul, Southern Silvery Kingfisher, Mindanao Tarictic, Blue-capped Kingfisher, Philippine Trogon, Black-faced Coucal, Orange-tufted Spiderhunter, Philippine Drongo Cuckoo and many more.
Birdwatchers will need to apply for a permit at the DENR-CENRO and pay the entrance fee. The office will also assign a mandatory guide.
Palawan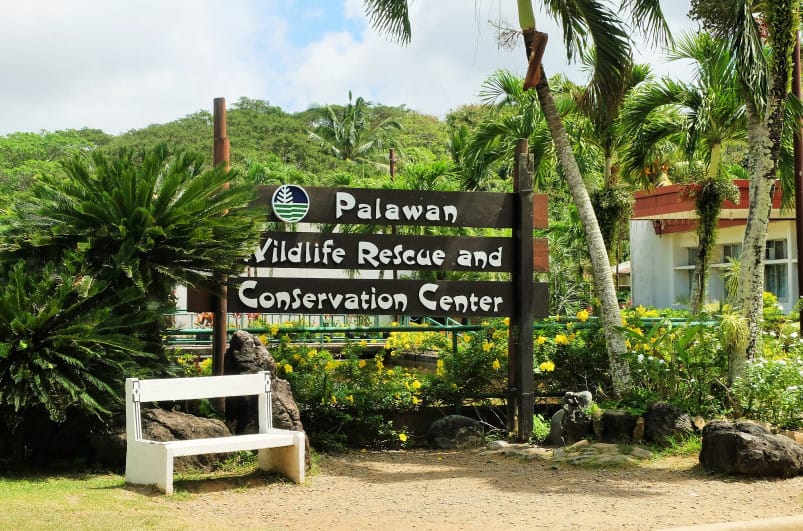 Palawan Wildlife Rescue and Conservation Center
The Palawan Wildlife Rescue and Conservation Center (PWRCC), also known as the Crocodile Farm, is one of the attractions frequented by tourists when visiting Puerto Princesa City. Crocodiles are bred at the center, and rescued birds and snakes are treated and cared for, showcasing the successful conservation efforts of the city. But for birdwatchers, the center is one of the easiest place to go birdwatching when you land in Palawan. Behind the center is a delightful little forest turned into an eco park with walking trails where you can find Roosting Rufous Night-herons, Blue Paradise Flycatchers, Black-naped Monarchs, Rufous-tailed Tailorbirds, Ashy-fronted Bulbuls and Palawan Bulbuls, the Oriental Dwarf Kingfisher, the White-vented Shama, Pale Spiderhunter, Palawan Flowerpecker and on the rare occasion the Chestnut-breasted Malkoha.
The Center is located in Barangay Irawan along Puerto Princesa South Road. From the Robinson's Place in the city proper, it's a good 25-30 minutes by tricycle, 20 minutes by car. Open hours are from 8:00 AM to 7:00 PM. The only downside is that you have to go on the tour first before getting to the eco park, and you have to wait until 8:00 AM when the center opens. There is an entrance fee of P40.
For nourishment, there's a couple of small eateries inside selling crocodile meat and juice drinks, and souvenir shops can be found outside the entrance. Useful tip: you can hire a tricycle for the entire morning, while it waits for you while you're birding.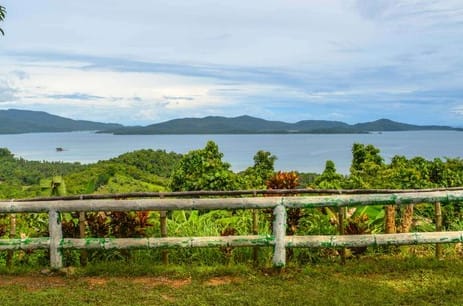 Buenavista-Tagabinet-Sabang Road
Information to follow.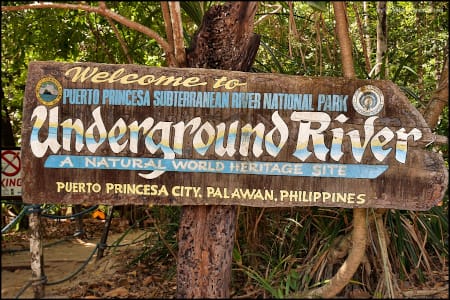 Puerto Princesa Underground River National Park
The Puerto Princesa Underground River National Park (PPURNP), formerly named St Paul's National Park, is located outside Sabang which is 77 km away from Puerto Princesa. It's a scenic area of lowland coastal limestone forest and mangroves. The park holds all but 3 of Palawan's endemic birds. To get to the park, one needs to take a boat from Sabang Beach. Getting the earliest boat would be the best option to avoid all the noise and bustle of the tourists thronging the island to visit the Underground River. While waiting for the boat, a casual look around can get you sightings of the Olive-backed Sunbird (aurora race) which have an orange color below the chest, Hair-crested Drongos and a careful scan of the ocean-front could yield you a raptor or two.
The biggest attraction at the National Park used to be the Palawan Peacock-Pheasant, one of the most gorgeous birds in Asia. In recent years a fairly tame male was seen around the ranger station but is believed to have passed on. Tabon Scrubfowl can also been seen near their nesting area. A forest trail near the ranger station is good for many other endemics, including the Falcated Ground-Babbler and occasionally the Blue-naped Parrot. Other attractions are the Palawan Hornbill, Palawan Flowerpecker, White-vented Shama, Ashy-headed Babbler and the Asian Fairy Bluebird. Two species of swiftlets can also be seen inside the Underground River itself.
If one is staying overnight in the area, an early walk along the Sabang Mangroves will be fruitful as well, with possible sightings of the Spot-throated Flameback, Rufous-tailed Tailorbird, Common Iora and the Mangrove Blue Flycatcher and of course some waders and egrets too.
We would like to thank the following WBCP members for the write-ups: James McCarthy (General birding information), Jon Villasper (UP Diliman), Mars Medina (LMEP), Mike Lu (LPPWP), Riza Melicor (Tagalag), Mads Bajarias (Subic), Carmel Eje (Makiling), Rene Calado (CJH), Adri Constantino, Birding Adventure Philippines (RSNP), Jops Josef (Olango and Gawahon), MJ Bugante (PNP), Linda Gocon (PWRCC), and Ravi Iyengar (PPURNP).